NFL Divisional Round preview: Who will come out on top in Sunday's games?
The Atlanta Falcons are desperate for an elusive play-off win against the Seattle Seahawks in their Divisional clash.
Last Updated: 14/01/13 1:36am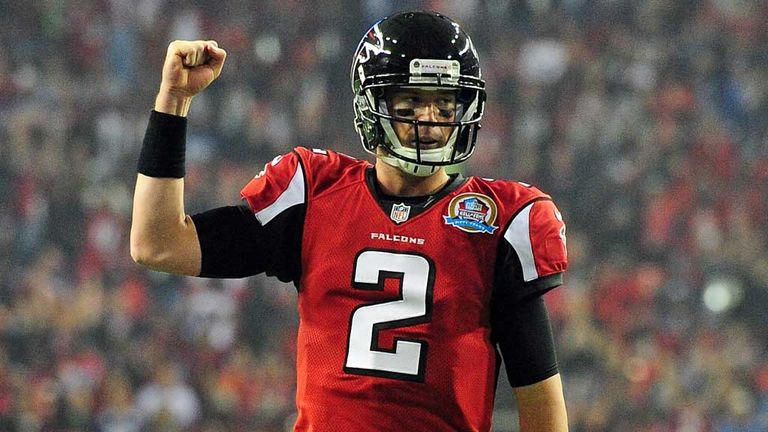 The Falcons have been flying this season with a 13-3 record earning them top spot in the NFC, but hardly ever has a 13-win season been brushed under the carpet than this year with Atlanta's poor recent play-off record being the main topic of conversation.
Here's our keys to the game as the Seahawks look for back-to-back road wins.
Seattle Seahawks @ Atlanta Falcons
Play-off pain
Atlanta must be the lowest-rated 13-win team in NFL history, and that is simply is due to their five consecutive defeats in play-off games. Ever since they punched their post-season ticket weeks ago thoughts immediately turned to Matt Ryan and Mike Smith's 0-3 record in play-off games, and the arrival of a red-hot Seattle fresh off a road win in Washington will do little to calm the nerves of worried Falcons fans. Being at home might even work against Atlanta should they go behind early, but at least from the start the Georgia Dome will be a pulsating ball of hope. 12 of the team have suffered all three play-off defeats, so it will go one of two ways, either their experience will help get them through finally, or those bad memories will come flooding back.
Passing game
Most notably the Atlanta Falcons' passing game versus the pass defence of the Seattle Seahawks. Sizeable cornerbacks Richard Sherman and Brandon Browner will have a great contest with Julio Jones and Roddy White, so it may come down to how they can handle tight end Tony Gonzalez, who is having his best year to date in Atlanta and is a huge presence especially in the end zone. Without any signs of a decent run game as Michael Turner looks like slowing down, Ryan will have to throw as often as possible, so his wide men will have to be at their best to make sure they can keep moving the chains.
Beast mode
Russell Wilson has been excellent, no doubt, but the rookie quarterback has been overshadowed by running back Marshawn Lynch, who is the undoubted star of this Seattle team that is threatening to produce a huge upset this season. He burned Washington for 132 yards last week when he went into 'Beast Mode', and he could do even more damage to Atlanta's run defence ranked 21st in the league this season. Lynch is no stranger to big post-season plays either, just ask the New Orleans Saints who, as Super Bowl champs, got dumped out in Seattle the next year after a barnstorming 67-yard run in their wildcard game. The Falcons will need to limit Lynch to slow down the Seahawks, or hope that reports of a foot injury prove to be near the mark.
Road rules
After a 1-5 start on the road by Seattle, they have warmed to the task of playing away from home and especially in their closing run with their last three away wins being superb ones at Chicago, Buffalo and last week at Washington, with a combined 97-48 scorelines in their favour. Wilson is also a key here as he has turned the ball over just twice in his final nine games and ball security is key on the road. Also, after last week's win and a flying finish to the season, the Seahawks will now believe they can do a Green Bay or a New York Giants from last season in taking the road route to the Super Bowl - and a team that believes is as dangerous as they come.
Prediction
Another tough one to call either way. As much as you point to Atlanta's poor play-off record you have to point to their 13 wins this season, and the fact that all three of their post-season defeats have been to Super Bowl teams - twice the eventual winners. Seattle also had a fine season and have a great bunch of talent on the team, so it could come down to a coin toss here so I'm going to ignore Atlanta's play-off record and go for the Falcons' greater experience and home field advantage to help them pinch it.