AFC Championship game: Baltimore Ravens v New England Patriots for place in New Orleans Super Bowl
The headlines surround Ray Lewis but there are much bigger question to answer as the Ravens visit the Patriots again.
Last Updated: 20/01/13 7:07pm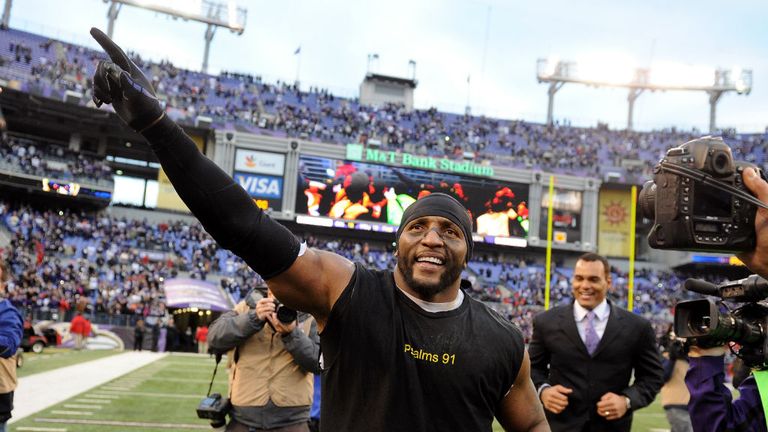 Lewis' long goodbye stretches into another game, and what a game it is as the Baltimore Ravens go searching for revenge in a rematch of last season's AFC title game when they narrowly missed out.
Here's what will decide this match-up and send the AFC contender to the Super Bowl.
Ray's destiny?
Could the Ray Lewis fairytale be powering the Ravens all the way to the Super Bowl? I'm not much of a fan of the 'name on the trophy' syndrome, but that last-second Hail Mary from Joe Flacco to Jacoby Jones in Denver was enough to suggest that it could just be written in the stars for Lewis to have his ideal send-off in the big game. It just so happens that Lewis and Baltimore go back to Foxborough where they so nearly won last year as well - and there is no doubt that his spirit kept the team believing with their backs against the wall last week. On the field Lewis may have lost a step but he has been showing up big time in the play-offs, playing all 188 snaps on defence and making a league-best 30 tackles so far.
Big plays
Traditionally a conservative, run-heavy offence, the Ravens have been the master of the big plays this season, and that was the undoing of Denver last week with Flacco finding Torrey Smith with two big bombs before that. Smith is a huge speedster averaging 24.4 yards per catch in the play-offs, and he shred the Pats defence for 127 yards and two TDs in the Ravens' narrow victory in the regular season this year. New England's 29th-ranked pass defence has looked better recently, but Smith's speed and Flacco's rocket arm means they will never be able to rest easy knowing just one slip can result in a huge play - just ask Denver!
Gronk out
Rob Gronkowski will be a huge miss for the Patriots - although they have been 4-1 without him during the regular season he is still the most dominant tight end in the league and arguably the best red zone threat in the NFL. The one bright spark for New England is knowing that the Gronk will definitely be out, meaning Bill Belichick can alter his plans during the week - and passing weapons are by no means thin on the ground for Tom Brady. Wes Welker had 131 receiving yards last week while Brandon Lloyd caught a TD pass and running back Shane Vereen showed good hands out of the backfield with two receiving scores.
No average Joe
Flacco may not have the reputation of Brady, nor the success of many other elite quarterbacks, but he man who is out of contract at the end of the season has some great post-season stats already in his five-year career. Flacco is 7-4 in play-off games in his career but amazingly has five wins out of nine on the road - only Eli Manning has as many and Flacco would move out on his own as the ultimate road QB if he gets his team to the Super Bowl. He already has more away play-off wins than Brady, Montana, Favre and Aikman and the likes, but he needs that Super Bowl ring to truly be considered one of the elite. Flacco threw three TDs last week with no interceptions, and his big-play arm rather than consistent driving did most of the damage. Still - in this game last year he was a Lee Evans drop and then a Billy Cundiff field-goal from getting the win, and just a slight change in fortune could make all the difference.
Prediction
This is so hard to call, these two have locked horns five times in three years and five of the last six meetings have been decided by six points or less, so one big play here or one mistake there could make all the difference. Baltimore are riding high on emotion but this is a second tough road game in a row, after double overtime in strength-sapping Denver, and Brady's hurry-up offence could eventually wobble the legs of their veteran defence, so I'm just going for the Patriots to squeeze through and return to the Super Bowl.