NFC Championship game: San Francisco 49ers v Atlanta Falcons for a place in Super Bowl XLVII
What do the San Francisco 49ers need to do against the Falcons to go one better than last year and make the Super Bowl?
Last Updated: 20/01/13 7:07pm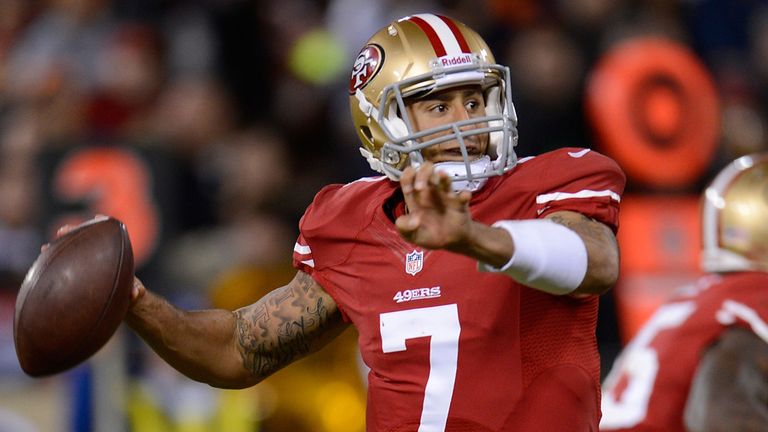 Colin Kaepernick's wonderful display against Green Bay last week will have meant for plenty of sleepless nights for the Falcons defence, but they are at home remember and will have their vocal fans right behind them.
How the inexperienced QB will handle that is just one of the keys to this NFC Championship game.
Cool Colin
Eyebrows were raised across the NFL when Jim Harbaugh picked the second-year QB over Alex Smith, but his explosive dismantling of Green Bay last week showed everybody exactly why. Kaepernick ran for a post-season record of 181 yards, threw for 263 and made all the right moves at just the right times. Apart from his powerful running and even more powerful arm, Kaepernick has displayed the confidence and mentality needed to survive in the post-season. He won his first start in a thriller in New England, and recovered from an early pick six against the Packers when many would have folded after two weeks of unrelenting hype for the game. Kaepernick has every physical tool needed to be a superstar, he just needs to conquer the Georgia Dome crowd now to book a memorable place in the Super Bowl.
Right Option
Frank Gore is amongst the best running backs in the league, but he has had to adjust to a new style of attack with Kaepernick running the read option. Kaepernick's running power takes the heat off Gore, who responded with his best total last week (119 yards) since the new man took over under centre. Looking at Atlanta's defence, it may pay for the Niners to have Kaepernick take the ball more often than not as well, with the Falcons struggling to contain Russell Wilson last week and also Cam Newton in two games against the Panthers in the regular season. Mixing it up could be the key but with Kaepernick and Gore both huge running talents either one will be a nightmare for the Falcons.
Great Gonzo
Tight ends on both sides should have big games - with Vernon Davis emerging from his slumber with a decent game last week, but the star man is on the other side with veteran Tony Gonzalez having another huge season. Nobody would begrudge the former Chief a Super Bowl appearance, and he could well have a say in whether the Falcons get to a second-ever game or not. The 49ers have done well containing tight ends as a whole, but almost half of their passing TDs allowed have been to that position - and Gonzalez is one of the best red zone threats around. His superb hands and athletic ability mean he can go up and grab catches few others can - and that makes him a nightmare for secondaries who also have Roddy White and Julio Jones to focus on.
Matty Ice
Can this be Matt Ryan's year? He led his team into the play-offs looking strong before but until this year had not sampled a play-off win, and he did so in great style as he had just 31 seconds left on the clock last week when he engineered a drive down to a winning Matt Bryant field-goal. It must have felt like another failure for the home fans and Ryan, and you cannot underestimate what a huge boost that thrilling late victory will have given the entire organisation. It was not a first either - in fact it was the third time Ryan has led a drive for the winning score that started inside the final minute of the fourth quarter. It is a new-found belief within the team in terms will help them to keep cool should matters start going against them, and with Ryan at the helm they have already shown that they are never beaten.
Prediction
Despite being away from home, the San Francisco 49ers are favourites for this one, and that is the way I see it going quite simply because there is hardly a weakness you can pick out in their team on either side of the football. The defence that got them to the Championship game last season remains, but Kaepernick has added that X-Factor on offence to give them an added dimension - whilst he has also brought the passing game on from Alex Smith especially Michael Crabtree, who now looks like the electric big-play receiver they drafted from Texas Tech.