New England Patriots lose AFC title game - Tom Brady says Baltimore Ravens deserved win
Tom Brady admitted the Patriots did not stand up to the physical challenge the Ravens presented in the AFC title game.
Last Updated: 23/01/13 8:39pm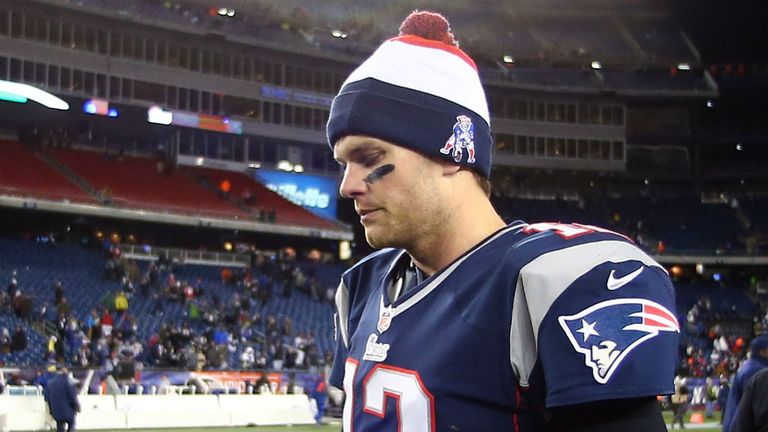 Brady and his offence had the run of Gillette Stadium in the first half, but a couple of drops and some poor clock management last in the half saw them go in just 13-7 in front.
The Ravens had hardly been in it but in the second half, after an emotional war cry from Ray Lewis in the locker room no doubt, they came out a changed side - far more aggressive and able to then bully the Pats out of it.
It was plain to see that New England could just not stand up to the footballing street fight that Baltimore produced in the second half, and a disappointed Brady was left to count the cost of a huge missed opportunity.
"Disappointed," said Brady. "Obviously, we didn't play very well and when you don't play very well against a good team it's not even very competitive - so it's unfortunate we just couldn't make critical plays when we needed to.
"We got behind in the second half there and became one dimensional, we just couldn't string enough good plays together to get the ball in the end zone.
Whatever we did, we didn't execute it very well, the name of the game is execution and if you don't execute well against a good team you're not going to come out on the winning end.
"They make it tough on you. They're a good team, good defence, they kept the pressure on and we just didn't really stand up to the challenge. We didn't earn it, they earned it."
Receiver Wes Welker caught a team-high eight catches for 177 yards, but took a huge hit from Bernard Pollard shortly before a crucial drop - although he did score one of their touchdowns.
Welker is a free agent and after failing to agree a long-term deal last year he may well leave the Patriots if they decided against putting the franchise tag on him as they did last off-season.
"Everybody knows how I feel about Wes, our whole team feels that way about Wes," Brady said. "He's just one of the best players I've played with and played against.
"He's just a phenomenal player, and he's been the heart and soul of what our team is all about. He's been so selfless, and the way that he carries himself and commits himself to help our team win, it's second-to-none. But like I said, those aren't my decisions."