NFL: Offensive line has been the 'strength and centre' of San Francisco 49ers' season says Jim Harbaugh ahead of Super Bowl
San Francisco 49ers head coach Jim Harbaugh heaped praise on his team's offensive line ahead of Super Bowl XLVII.
Last Updated: 31/01/13 8:55pm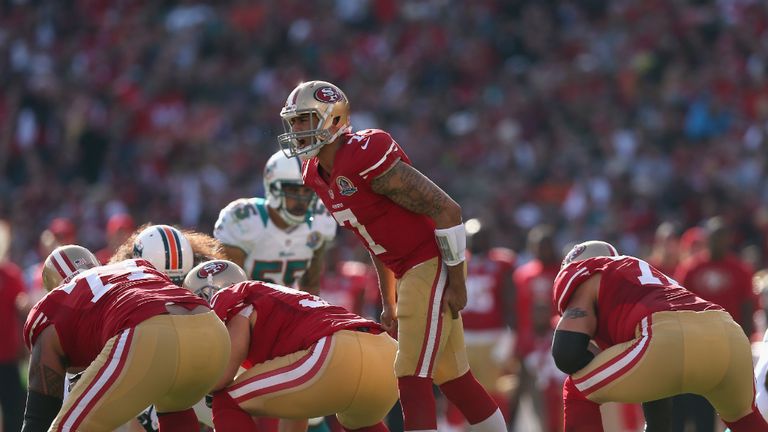 Harbaugh singled out the leadership of left tackle Joe Staley and the contributions of centre Jonathan Goodwin and guard Mike Iupati as crucial in the 49ers' run to NFC title.
"I'd call them offensive weapons as well. They've all played well together. It's really been a strength and a centre for our football team," said Harbaugh, who will be up against his older brother, Ravens head coach John, on Sunday.
On Goodwin - a free agent pick-up in 2011 - he added: "When he first arrived here, we were void at the centre position. He has stepped in and started every game, been a great player for us."
Staley, a first-round draft selection in 2007, revelled in his head coach's appraisal.
"We are a physical weapon, a blunt-force object. It's one of our strengths, all five of us, and we're playing at a pretty high level this year," he said.
"We take a lot of pride in what we do, so I feel honoured that he'd call the 'big uglies' up front a weapon.
"We do not just do one thing well. We feel like we are talented enough to do a lot of different schemes.
"The Ravens have a great run defence and a great defence. It is going to be a great test for our o-line and our football team to get the job done."
Niners defensive end Justin Smith, who faces the offensive line in practice, agreed with the sentiments of his head coach.
"They are a good group across the board; they've got the right amount of nasty dudes, and they've got the right mix. They're smart guys too," he said.