Super Bowl XLVII: We preview the big game in the New Orleans Superdome
We preview Super Bowl XLVII and pick out what will decide the game which comes live from New Orleans on Sky Sport 1HD.
By Paul Higham in New Orleans - Twitter: @SkySportsPaulH
Last Updated: 04/02/13 4:51am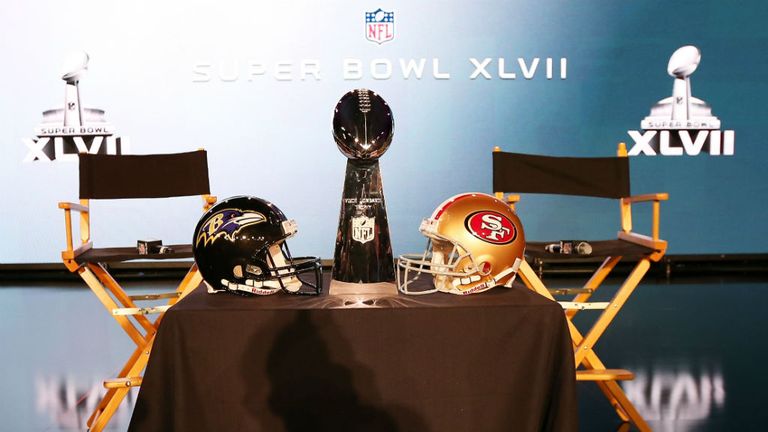 It's the San Francisco 49ers against the Baltimore Ravens, for the most coveted prize in American sport, but who will come out on top? Here we try and break down the biggest game in the world.
Here's how the teams match up and where the Super Bowl will be won and lost.
Records
The San Francisco 49ers were the team of the 1980s, but under coach Jim Harbaugh they are now the force of old after a good few lean years. They came within a game of the Super Bowl last year and this year have gone one better.
The Niners have won five Super Bowls so far, winning every time they get to the big game and a sixth title would tie Pittsburgh for the most ever in NFL history. The Ravens have just one win to their name so far in their shorter 17-year history, but together that means the teams are 6-0, so someone is going to taste defeat for the first time.
Kaepernick v Flacco
The quarterback battle is always huge, and none more so than in the Super Bowl. Flacco has proven his ability over the last few years and has more road play-off wins than anyone else. He's a superb pocket passer with a great arm, many think he could be an elite at the position should he win this game.
Kaepernick is unbelievably making just his ninth start. This is the big question mark, he has handled everything else up to now but this is a step above anything he will have seen or felt before. He is part of the new breed of running quarterbacks and many think a win for him could lead to a shift in teams around the league looking for triggermen who can throw and run.
Most passing yards bet - Kaepernick 11/8 Flacco 8/13
Running game
Both teams love to run the ball, and although they've expanded the passing game it still needs to be won in the trenches of the running game, luckily these two have great running backs in Ray Rice and Frank Gore.
What may clinch it for the 49ers though is their variation. With Kaepernick able to keep the ball in the option it is a lot harder to defend than the simple run, plus in LaMichael James they have a great change of pace which can do some damage.
Most rushing yards bet - Gore 8/13 Rice 11/8
Receivers
San Francisco have the self-proclaimed best receiver ever in Randy Moss, but Michael Crabtree is their big threat after stepping up his game with Kaepernick and he is starting to prove he is the first rounder we all thought he was from Texas Tech.
I'd possibly give a slight edge to Baltimore with Torrey Smith having electric pace to beat even the best of cornerbacks, and he needs just one chance to score, meaning you can never settle, while Anquan Boldin is a brute who can muscle any catch, but they also have Jacoby Jones who can step in from the return game.
First touchdown bet - Crabtree 15/2 Boldin 12/1
Defence
Both teams have been built around their defences, and you can't in all honesty see too many points being put up on the board, as we have some of the star names in the game on both teams here. Ray Lewis leads the Ravens spiritually and on the field, he led them in post-season tackles this season despite injury.
Terrell Suggs is also one to watch out for, while the 49ers are led by another number 52 Patrick Willis, but with Aldon Smith and Navarro Bowman also around they can be hugely dominant, especially with two weeks to prepare for the Ravens.
Most sacks - Baltimore Evens San Francisco 5/6
Tight ends
Dennis Pitta has popped up with a sneaky big play and trip to the end zone here and there this season, so don't be surprised if he gets on the board, but I really expect a big game from his opposite number Vernon Davis, who starred against Atlanta and is a match-up nightmare for defences.
Position of first TD scorer - Tight end 7/2 Receiver 13/8 QB 15/2
Special teams
Often neglected, in a big game like this they could really make the difference - the 49ers know this well as a muffed punt led to them missing the Super Bowl last year. They are not a good unit on defence though, and with Jacoby Jones looking dangerous he could give Baltimore the edge.
Any time Baltimore defence/special teams scorer - 7/2
Kickers
Another sometimes neglected position, but Super Bowls have been won and lost before by the men with the boot, and the Ravens missed last year's Super Bowl because of a missed field goal. They now have rookie Justin Tucker who has a strong leg and looks solid, while the 49ers have veteran David Akers who has really struggled of late.