NFL Combine: Manti Te'o explains Catfish hoax to media in Indianapolis
Manti Te'o faced the NFL Combine media for the first time to explain the well-publicised girlfriend hoax he suffered.
Last Updated: 24/02/13 2:25pm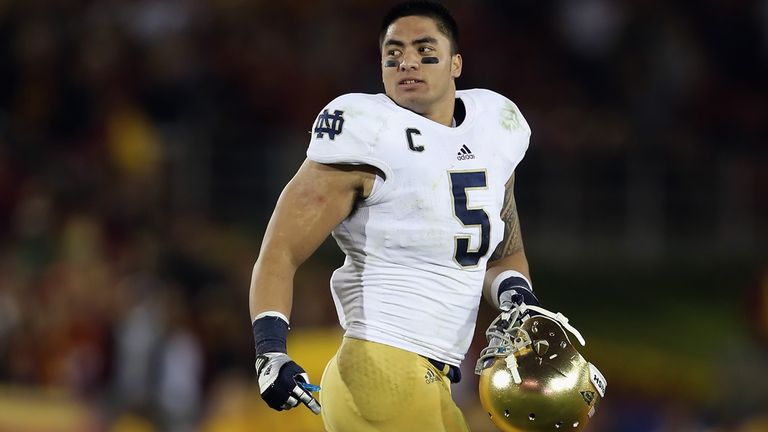 Te'o was one of the hottest properties in college football until the amazing 'Catfish'-type hoax were he was led to believe he had found a girlfriend on the internet.
It all hit the headlines when Te'o revealed that his girlfriend, Stanford University student Lennay Kekua had died, but it later came to light that he had never met the girl and that in fact she did not exist - it was a hoax by a man named Ronaiah Tuiasosopo.
While the controversy will follow Te'o around for some time, he is looking to focus on football as he shows his athletic skills at the combine and also meets with NFL teams to try and convince them he is worth selecting in the draft.
"This is pretty crazy," Te'o told a packed news conference. "I've been in front of a few cameras, but not as many as this.
"The incident, I said all I needed to say about that. How I'm handling it going forward, it's doing what I'm doing right now: Focusing on the moment and focusing on football and the combine.
"I could've done some things different to avoid all of this stuff. It's definitely embarrassing, you get people staring at you in grocery stores, doing double takes, but it's part of the process, the journey, and hey, it's only going to make me stronger and it definitely has."
Te'o looked nervous at times but spoke well about his situation, and he accepted that every team he speaks to will want to go through the girlfriend hoax - he just hopes he can persuade them it is nothing that would affect his football.
"They want to be able to trust their player," he said. "You don't want to invest in somebody who you can't trust. With everybody here, they're just trying to get to know you as a person and as a football player.
"I understand where they're coming from. It could be a hurdle or it could also be a great opportunity to show who you really are. And that's the way I've approached it.
Hard work
"What I bring to the table is a lot of heart, a lot of energy and someone who works hard, somebody who hates to lose, I hate losing more than I love to win.
"So for the teams, I'll just tell them you'll always get someone who's humble, who doesn't say much but will do everything it takes to win."
Te'o has already spoken to the Green Bay Packers and Houston Texans but will meet with 18 more teams before the combine is over and admitted he would love to fill a huge void at the Super Bowl champions Baltimore left by a certain number 52.
"I'd love to go to any team, but definitely the Ravens," Teo'o said. "I've grown up watching Ray Lewis, watching his intensity, his passion for the game, his work ethic.
"Everything in a linebacker that you want is in Ray Lewis - leadership qualities and all that - he'll definitely be missed in Baltimore and the NFL as a whole.
"If I do get to go to Baltimore it'd definitely be some big shoes to fill but it'd be an opportunity I'd be honoured to have."