NFL: Veteran tight end Tony Gonzalez to play again with Atlanta Falcons
Tony Gonzalez has reversed his decision to retire and will instead play one more season with the Atlanta Falcons.
Last Updated: 13/03/13 9:23am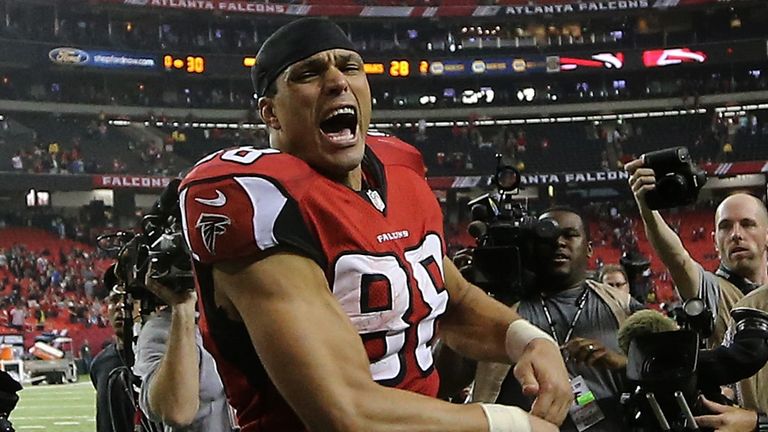 Gonzalez made 93 catches for 903 yards and eight touchdowns last in 2012 and currently sits second on the all-time list for receptions, with only wide receiver Jerry Rice ahead of him.
Having lost to the San Francisco 49ers in the NFC Championship game, he confirmed on Twitter that the opportunity to try and reach the Super Bowl again proved too great to ignore.
"I'm happy to say that after speaking with my family, I'm coming back," Gonzalez wrote on the social-networking site.
"The lure of being on such a great team and organization, along with unbelievable fan support was too good to pass up. We have a great shot to get to the Super Bowl, RISE UP ATLANTA!"
The 37-year-old has spent the past four seasons in Atlanta having previously played for the Kansas City Chiefs.
A Pro Bowl selection on no fewer than 13 occasions and the only tight end in NFL history to have 100 career touchdown catches, Gonzalez's return is a major boost for the Falcons as they look to retain their title in the NFC South.
"We are very pleased that Tony has decided to come back for another season," Falcons coach Mike Smith said.
"He has been a key component to our success during his four years and it is great to have the opportunity to coach him for a fifth season."
Turnaround
Gonzalez added that he thought his career was over, but the manner of Atlanta's NFC Championship game defeat to San Francisco made him eager to have one last shot at the Super Bowl.
"I was done, I thought I had my mind made up," added Gonzalez. "This whole year I knew it would be my last but the way our final game ended and talking to all the guys in the locker room, in the end it was too difficult of a way for me to step away from the game. It's not often in a career you're around a group like we have down in Atlanta."
Gonzalez also had a possible new job as a TV analyst and had also promised to spend more time with his son Nikko in California - but the Falcons have promised to work with him to give him as much time as possible with his family.
"The Falcons were great about that fact and how important my commitments are as a dad," said Gonzalez. "Smitty has always been great with working with us when it comes to family.
"There are things I promised Nikko that the team is going work with me on so I can keep my promise to my son. That was a huge thing for me and they couldn't have been more understanding.
"They really are a family organisation. Not sure what the dates are yet but at least I know I can be there for things I promised my son I would be there for."