NFL: San Francisco 49ers tackle Joe Staley on rivalry with Seattle Seahawks
San Francisco 49ers tackle Joe Staley is relishing next season's Seattle rivalry and watching Colin Kaepernick develop.
Last Updated: 17/04/13 9:19am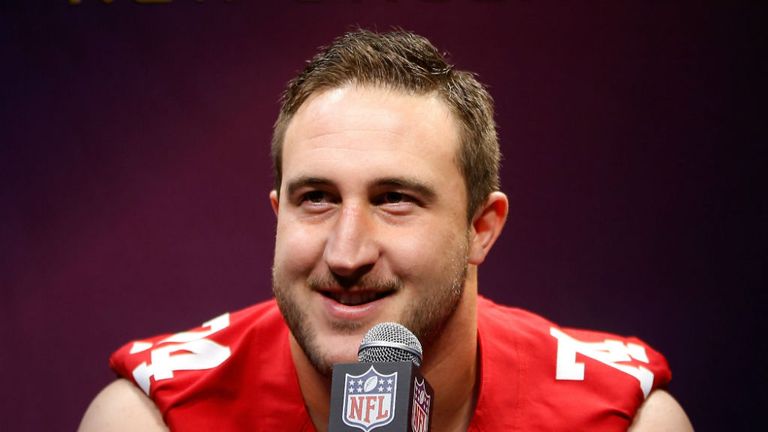 The 49ers made it all the way to the Super Bowl last year when they just came up short against the Baltimore Ravens in New Orleans, but the team is determined to go one better this time around.
One of their biggest challengers next season could come from their own division with the Seattle Seahawks looking like a team on a big upward curve after their play-off run.
Pete Carroll's side only just lost out in Atlanta, who then faced San Francisco in the NFC title game and it so easily could have been an all-NFC West clash.
A division that has long been amongst the weakest in the league now looks a lot stronger, and the two battles between Seattle and San Francisco promise to be two of the biggest games of the season.
"They definitely added a ton of talent to the roster in the off-season," Staley told NFL Total Access about the Seahawks. "But so have we - when you look at the rosters we're both kind of similar, both built on a lot of young talent, with young quarterbacks.
"I'm very excited to get that rivalry going again this season. It's no secret that we don't like Seattle, it's become a heated rivalry of the last two years.
"On paper they look a great team, but the game's not played on paper, that's a cliché I like to use, and we'll go decide it on the football field. The whole division is adding a lot of talent so it'll be exciting and there'll be some good games when we play them twice a season.
"I love playing the Seahawks up there, I actually love playing in that stadium."
Second-year quarterback Kaepernick made a huge impact when he was introduced during the season after an injury to Alex Smith, and now with a full off-season to prepare as a starter, Staley thinks he will only get better.
"One thing I always say about Colin is that he's incredibly, incredibly driven, he has all the fuel he needs from last post-season and losing that Super Bowl, I know a week after the season was done he was out in Atlanta working out getting ready for next year.
Battle
"You look at the pistol offence as well and the hits that the guys take, especially with him being a mobile quarterback, you worry about that but with his training regimen and the way he works out he's preparing his body for battle.
"He has all the talent in the world, it's never a talent question, but as far the hunger to get better and the drive and leadership it's all the stuff you look for in a quarterback. I'm very excited about this off-season for him, for him to know this is 100 percent his team."
Staley also picked out a second trip to London to play at Wembley Stadium with the 49ers as one of the highlights he was looking out for this season.
"I'm really looking forward to playing in London, we played there two years ago and that was really great to play at Wembley, so I'm really excited to get another opportunity to go over there and play."