NFL Draft: USC quarterback Matt Barkley looking forward to Draft
Matt Barkley insists he has no regrets about delaying his entrance into the NFL by a year as he prepares for the Draft.
Last Updated: 24/04/13 7:17pm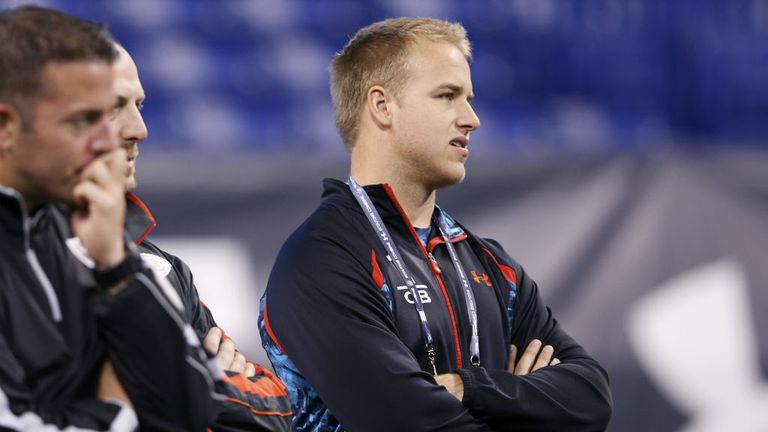 The USC quarterback enjoyed a stellar 2011 and was pinned as a top quarterback in last year's Draft along with Andrew Luck and Robert Griffin III, but he decided to remain in college for his senior year.
Chasing a national title, Barkley endured a downturn in fortunes and his season even ended early due to a shoulder injury, leading to more doubts about his arm strength and ability to play in the NFL this time around.
Barkley, though, has no regrets about playing the extra year in college, and insists he can make all the throws needed to make it in the NFL - stating his pocket passer style is moulded on New Orleans Saints star Drew Brees.
"I have no doubt in my mind that I can make all the throws with velocity, and put it into windows that need to be thrown with arc and pace," Barkley told NFL Total Access. "I've made those throws in games before.
"They're on tape for the last four years, not just my senior year, but in my other three years I've been making those throws.
"I wanted to stay and try to achieve something special with USC when we had the chance, the ball didn't fall our way sadly but I took a shot. I think the year will only do me good in learning how to deal with adversity in the NFL.
"I've never had one regret about coming back and making the decision to play my senior year, I've learned so much from this year that I would never have gained if I had left - I'm not the type of guy to look back and think what if."
Barkley is looking forward nervously to Draft day on Thursday, and he knows that although it is exciting it is only the beginning of his journey into professional football.
"Draft day is going to be full of emotions, excitement and nerves," he added. "I'm not the type of guy to get nervous during a game but this is a different type of setting, because this is what I've dreamed about since I was a little kid, to play in the NFL.
"All you need is one team to believe in you and give you an opportunity and I can't wait to seize that and be part of a team. As much as you look forward to the draft it's just the very beginning."
Barkley will not be present at Radio City Music Hall in New York though, and instead of sweating over his Draft position with the other prospects he will be at home in California with his family.
"I thought about it long and hard, I knew I wanted to celebrate with my family I have a large extended family so decided to keep it at home with family and close friends have a barbeque and enjoy it with them."
Our live NFL Draft coverage starts at Midnight on April 25 on Sky Sports 1HD - and is also available on via the Sky Sports Day Pass. Click Here to find out how you can get Now TV
For the first time ever, Pay As You Go Sky Sports is available on NOW TV. The Sky Sports Day Pass lets you watch all six channels for 24 hours for just £9.99. So whether it's Football, Golf, Formula 1®, Tennis or NFL, you can pick and choose, dip in and dip out. There's no contract. Just sport.