NFL Draft: Lawrence Okoye gets chance to star in NFL with San Francisco 49ers
Lawrence Okoye has signed with the San Francisco 49ers after going unselected at the NFL Draft in New York.
Last Updated: 28/04/13 6:59pm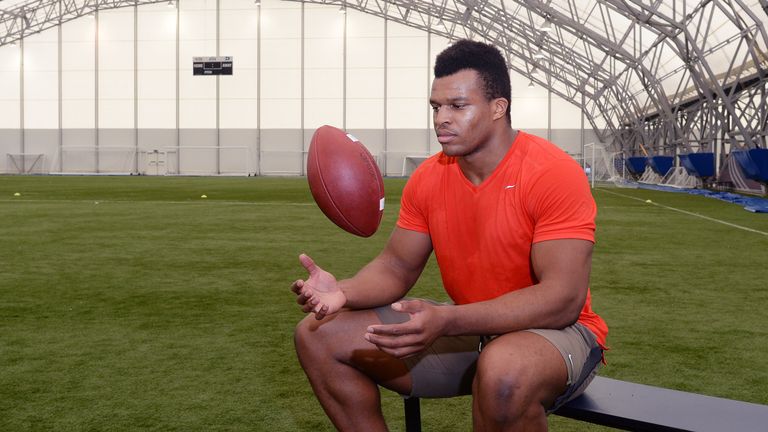 The British discus thrower is trying his hand at American Football, despite having never played in a competitive game, after impressing during the scouting combines.
Okoye made it to the final of London 2012 and was on a training camp in the United States when he decided to try out for the NFL, attending a regional scouting combine in Atlanta.
He was impressive enough to move on to the next super combine in Dallas, where all 32 teams had scouts to see him work out.
Those performances were not quite enough to see him selected in the seven round draft at Radio City Music Hall, but soon after the conclusion of the event on Saturday he announced on Twitter that he would be joining the 49ers as an undrafted free agent.
Okoye, who stands 6ft 5ins and weighs in at 310lbs, is expected to play as a defensive lineman but still faces plenty of hurdles to secure a place on the 49ers roster given his lack of experience in the sport.
"It's amazing for me, I'm absolutely delighted how things have worked out," said Okoye. "The 49ers are the best fit in the league for what I am trying to do. This could be a great success story.
"I watched the Super Bowl and it was amazing to see them come back from such a terrible start and be one play away from winning. I want to be part of the organisation's future success and I think they are building a team that can rival any in the NFC and NFL."
Crawley-born linebacker Tom Wort was also ignored during the draft, despite at one point being tabbed as a possible third round pick, but he has signed with the Tennessee Titans as an undrafted free agent.
Wort, unlike Okoye, came through the college ranks in the USA with 33 starts for the Oklahoma Sooners, where he racked up 10 sacks.
The other British player in the 2013 Draft, Manchester's Menelik Watson, was taken on Friday by the Oakland Raiders with the 42nd overall pick.