NFL: Lawrence Okoye signs for San Francisco 49ers, Jim Harbaugh impressed
Lawrence Okoye made an immediate impression on San Francisco 49ers coach Jim Harbaugh despite never playing a down.
Last Updated: 29/04/13 3:04pm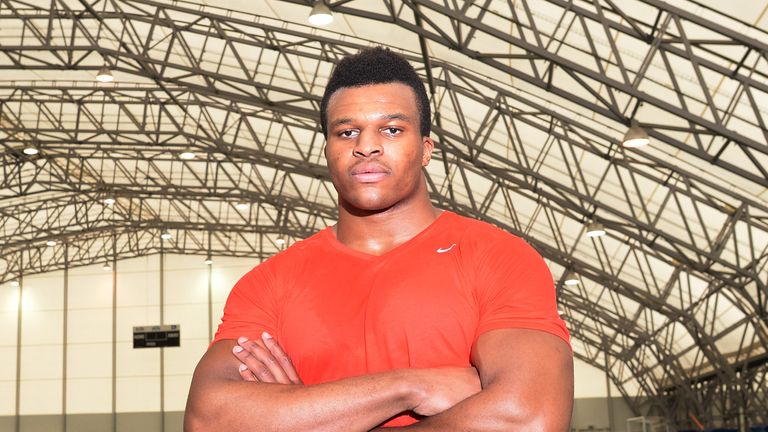 The British discus star knows he faces an uphill battle to succeed in the NFL have only ever worn a helmet and pads the once, but his physical presence and sporting background convinced the 49ers they had something to work with.
At six-foot-six but with great athleticism and speed, Okoye stuck out at regional combines and the 21-year-old had a few teams asking after him, but it was the Niners that showed more interest in molding him into a true NFL star.
Given the comments by head coach Harbaugh, who has steered his side to an NFC Championship game and Super Bowl in two years, it is hardly surprising that Okoye felt wanted in San Francisco.
"Inadequate. It was my first impression standing next to him," joked Harbaugh when he was asked about his new addition to the team. "He's just an Adonis. Just a great physical specimen of a man. I can think of some other adjectives. Our Creator created a beautiful man.
"And the things that really impressed, he had the rugby background growing up, and didn't start throwing the discus until he was 18 years old. And then two years later he was throwing in the Olympics.
"So, you maybe start to put the pieces together and say, taking on football at this time in his life, I can see this guy doing it. So, I'm excited."
Harbaugh said that defensive line coach Jim Tomsula helped in deciding if Okoye had what it takes to make it as a player despite having no experience of the game growing up.
"I don't think there is anybody in the National Football League who has more experience with that than Jim Tomsula, who coached in the European League," said Harbaugh." This was what he did for years. So, that was the person that we went to.
"There are a lot of positions that he could be. But, I think we'll start on the defensive line."
Backing
Okoye himself said that Tomsula was a major factor in him deciding to go with the 49ers ahead of other interested teams, and he knows it is only the start of a long hard process.
"It's the team I felt wanted to do the most work with me," said Okoye. "Jim Tomsula has a great background in NFL Europe developing players without much background in the game.
"It's going to be a baptism of fire but that's part of the process. I don't set limits on myself. If I said when I was 18 that I was going to be in an Olympic final in two years I don't think anyone would have said I was serious.
"I realise it's going to be a ridiculously tough, tough process. It's going to be a fight every day and I am aware of the big possibility of being on the practice squad for however long they see fit. If I make it early or late it doesn't matter as long as I make it.
"I will have to work even harder than everyone else, I have a lot to catch up on. I know as much as I can without having played it but I am still an outsider looking in."