NFL News: Tim Tebow joining New England Patriots in Bill Belichick gamble
Tim Tebow's NFL career is not quite done yet as he looks to be heading to New England to sign for the Patriots.
Last Updated: 11/06/13 3:12pm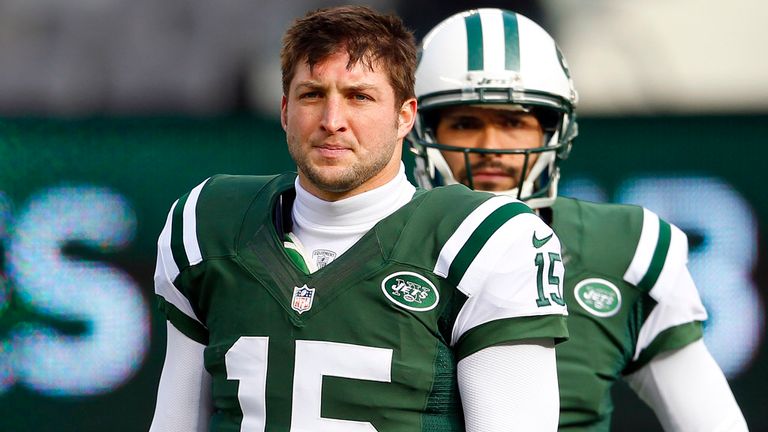 Reports emerged quickly on Monday and the Pats confirmed on Tuesday that the former Broncos and Jets cast-off is heading to Foxborough after signing as a free agent with the Patriots.
New England's wily old head coach Bill Belichick is known for making the odd bizarre off-season move, and is also not afraid to give a home to players struggling to find a place to fit in.
Usually though it is for the likes of Randy Moss or Chad Ochocinco - taking a chance on an undoubted talent who may have personal or discipline issues.
It is exactly the opposite with Tebow though, the exemplary professional off the field who has struggled to convince NFL fans and coaches that he is a starting quarterback.
Moving on
The former Florida hero managed to steer Denver into the play-offs two seasons ago, but was not given too much credit for that and was traded to the New York Jets to join their quarterback circus led by ring master Mark Sanchez.
After limited playing time Tebow was again cast aside, but now Belichick has taken a chance and if reports are to be believed has also signalled he will be allowed to play quarterback.
A powerful athlete, Tebow could also play the likes of running back, receiver and even tight end - with New England in particular thought to be keen to try him out at that position as he was on his way out of New York.
Tebow insisted though that he wanted to stick at QB and not move to tight end, but a lack of interest might have altered his stance while ever the merest chance of learning from Tom Brady had him jumping on the first plane to Boston.
Even if Tebow has signed as a QB, he is unlikely to pass Ryan Mallett as Brady's back-up and even if he did make the roster it would be as a third-stringer and occasional special teams or trick play artist.
As we've seen throughout his short but already fascinating career though, Tebow is a headline maker regardless of where he plays or even how little he is on the field - and that is unlikely to change any time soon.