NFL News: New England Patriots confirm signing of Tim Tebow as free agent
The New England Patriots have confirmed they have signed headline-making quarterback Tim Tebow as a free agent.
Last Updated: 11/06/13 4:05pm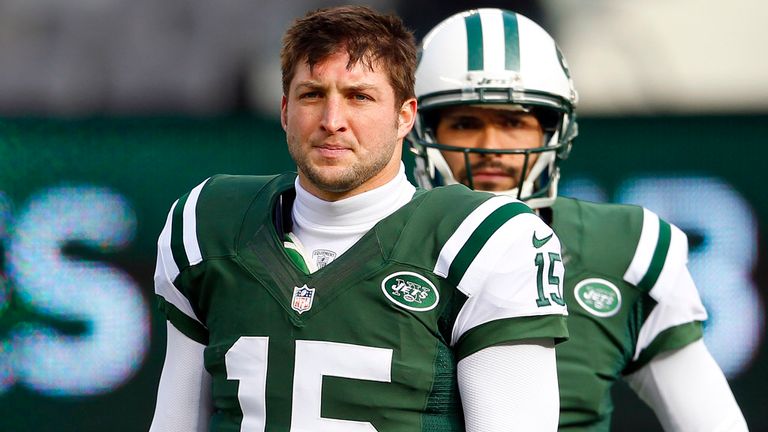 What must be the most talked about back-up quarterback in the history of the NFL has made another big move as he joins up with Bill Belichick at Foxborough.
Former Heisman Trophy winner Tebow was drafted by the Denver Broncos in 2010, and led them into the play-offs in his second season before then being traded to the New York Jets.
The hype in New York was ramped up even further in the Big Apple where he played behind struggling starter Mark Sanchez but was released after a year.
No team wanted to take a chance on him due to his throwing mechanics, but he will now have the chance to learn from one of the best alongside Tom Brady.
The presence of Josh McDaniels, who drafted him for Denver, as Patriots offensive coordinator may have had an impact on the decision to bring in the 25-year-old, who proved to be a big talisman for the Broncos but still took criticism for his throwing action.
Brady back-up
Through 16 starts over his three NFL season, Tebow has 173 completions from 361 passes resulting in 2,422 yards, 17 touchdowns and just nine interceptions - but it is on the ground where he excelled scoring 12 rushing TDs.
Now, if Belichick is to turn him into a viable back-up to Brady, it will be one of his best feats in free agency, and Tebow has already improved according to the man he has been working with for the last month.
Belichick was at his stone-walled best as he faced an unusually packed media conference, and he would not be pushed to comment too much on Tebow.
"He's a talented player who's smart and works hard," was about the best the press pack could get out of Belichick.
"We got a team full of players who've all got jobs to do and I'm sure he'll do his the best that he can. Tim's just one player in our team who's here to compete for a place."
Former Heisman Trophy winner and Carolina Panthers QB Chris Weinke has been working with Tebow in Florida and he says that he is already seeing improvement - improvement which will only continue in New England.
Locked and loaded
"Do I think he can play the quarterback position in the NFL? Yeah, no question,'' Weinke told USA Today. "Like I told Tim when I found out that he signed, 'You're locked and loaded, ready to go.'
"Tim's about as competitive a guy as you're ever going to be around. Tim didn't spend any time talking about the Jets releasing him. But at the end of the day, he's been humbled and he's hungry.
"That's good. He'll go up to New England. And they'll be pleased with the way he's throwing the football. It's an ideal, no-nonsense environment. He wants to get much better.
"I made an adjustment to his lower half and invariably that's where the quickness came from. What I saw was, when his feet were in good position, he was throwing the ball with great accuracy, great velocity. And the ball was coming out much quicker.
"I know he's excited to get up there to New England.''