NFL pre-season: Mark Sanchez gets ahead and Tom Brady shines for Patriots
Mark Sanchez won round one at the Jets, but that was just one of several lines of note from QBs in pre-season action.
Last Updated: 10/08/13 2:32pm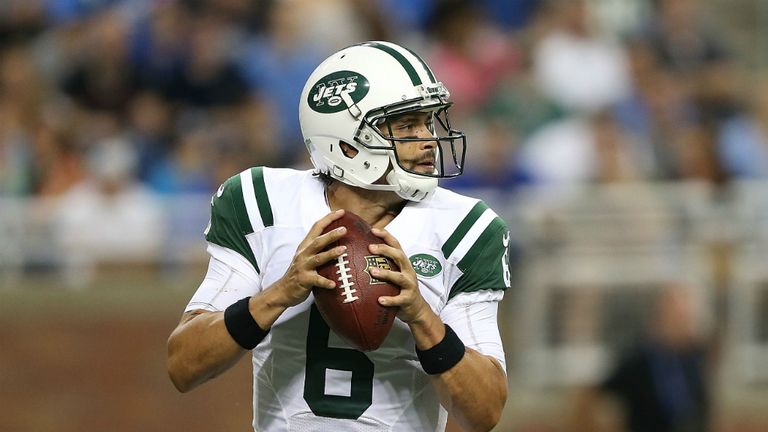 This early in pre-season it's hard to pick up any real clues for the real season ahead, but there are still big questions to be answered, mainly at quarterback, around the league.
New England Patriots 31 Philadelphia Eagles 22
There's no question in New England of course, and Tom Brady led two 80-yard TD drives in his only action of the night, while Tim Tebow played more in this game than he did for the Jets all last season - running a lot of read option plays.
Without their top five receivers last year, Brady effortlessly found rookies Kenbrell Thompkins, Aaron Dobson and Zach Sudfeld, but a new-look offence also had plenty of running power. Giant rusher LeGarrette Blount could have nailed a spot on the team with two TDs including a 51-yard barnstormer.
For the Eagles, both Michael Vick and Nick Foles each played two series and each led a TD drive, while rookie Matt Barkley impressed when given the bulk of the game time in the first outing in the Chip Kelly era.
Detroit Lions 26 New York Jets 17
This is the battle everyone wants to see, and which will no doubt be scrutinised more than any other, but Mark Sanchez had a seemingly rare good day as he bounced back from an early pick to outshine Geno Smith - who went three-and-out twice before leaving with a sprained ankle.
Lions rookie defensive end Ziggy Ansah had a debut to remember as he was the one pick off Sanchez early in the game and return it 14 yards for his first NFL touchdown - and big things are expected this year from the No 5 overall Draft pick.
Arizona Cardinals 17 Green Bay Packers 0
An exhibition game to forget for the Packers, but plenty of good points for the Cards, with Carson Palmer looking good as Green Bay's starting defence. Rookie defensive back Tyrann Mathieu made a good impact on his debut while fellow rookie Stepfan Taylor got an extended spell to press his claims at running back.
New Orleans Saints 17 Kansas City Chiefs 13
Former 49ers starter Alex Smith made his debut for the Chiefs, leading an 80-yard TD drive to kick-off his and Andy Reid's new tenure. No 1 Draft pick Eric Fisher suffered a worrying thumb injury but X-rays came up negative. Saints coach Sean Payton returned to the sidelines after a year out suspended due to the bounty scandal.
Houston Texans 27 Minnesota Vikings 13
More rookie impressing for both teams in Houston, including Minnesota receiver Cordarrelle Patterson who made an instant impact taking the opening kick-off return 50 yards. He continued to impress with four catches for 54 yards, and he could see regular season action sooner rather than later.
Christian Ponder threw just two passes while another first round pick Sharrif Floyd left the game with a knee injury. DeAndre Hopkins caught a Hollywood touchdown pass for the Texans that he has been specialising in during practice.
Oakland Raiders 19 Dallas Cowboys 17
Matt Flynn stated at QB for the Raiders but Terrelle Pryor did the more impressive work mainly operating in the read option, and that could be another interesting battle to watch going forward. Giant receiver Brice Butler showcased his ability and could be one to watch.
No outstanding new faces for the Cowboys but regulars Tony Romo and Dez Bryant started off with good chemistry and Bryant in particular looked raring to go for the new season and has the size and power to trouble anyone in the league.
Miami Dolphins 27 Jacksonville Jaguars 3
Not the start Jags fans wanted to see, with QB Blaine Gabbert struggling badly and Justin Blackmon being escorted from the field despite not even playing! Blackmon exchanged words with Miami's Nolan Carroll before getting involved with his own team-mate Jason Babin.
It's not what the team wants to see from a player already missing the first four games of the new season through suspension. Miami QB Ryan Tannehill seemed to have a good connection with new tight end Dustin Keller, while Mike Wallace went without a catch.
Carolina Panthers 24 Chicago Bears 17
Marc Trestman's debut as Bears coach did not go exactly as planned, with Jay Cutler throwing an interception on his first pass attempt and defensive tackle Harry Melton knocked out of the game with concussion. Carolina's offence did little and it was cornerback John Norman who made the big impact with two picks including one he returned for a 60-yard score.