NFL: Minnesota Vikings looking for quick improvement against Chicago Bears
Minnesota head coach Leslie Frazier has called on his team to raise their game against rivals Chicago on Sunday.
Last Updated: 13/09/13 4:41pm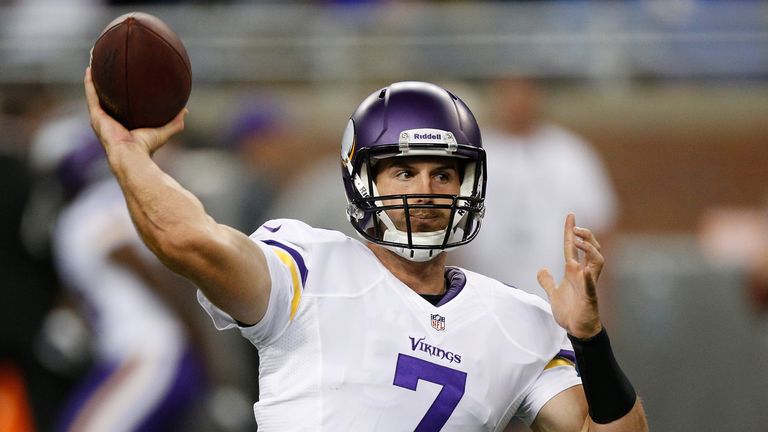 The week two fixture at Soldier Field offers the Vikings, who last season made the play-offs as a wildcard with a 10-6 record, a chance to make amends for their opening-day defeat in Detroit.
Minnesota quarterback Christian Ponder threw three interceptions in week one but Frazier refused to blame the third-year signal caller for the result.
"It wasn't just Christian," he said. "It just so happens that he plays the position that's under the most scrutiny.
"But we had other guys, trust me, that when we watched the tape, the scrutiny that needed to be had in those moments, they are well aware that they had to play better. And they're not looking only at our quarterback and saying, 'if he had done this or that, we would have won that ball game'.
"We need to play better across the board."
'Easily correctable'
Ponder, the 12th overall pick in the 2011 draft, is expecting a quick improvement from his offence, which includes last season's league MVP, running back Adrian Peterson.
"It's just mistakes that are easily correctable," said Ponder. "We're too good of a team to be making those mistakes.
"We have to establish the run a little better. We had the first run that was great and then towards the end of the game we were running the ball a little bit better. We have to continue to develop that area and can't turn the ball over."
The Bears came from behind to beat Cincinnati Bengals in week one, ensuring the Marc Trestman era got off to a positive start.
Trestman replaced the long-serving Lovie Smith as head coach after last season's 10-6 campaign with a brief to get the best out of quarterback Jay Cutler.
And the initial signs appear good; the offensive line kept Cutler clean in week one and the Vanderbilt graduate responded with a solid display that culminated with the winning touchdown pass to Brandon Marshall in the fourth quarter.
"Each day coming in here Wednesday, Thursday and Friday, I know that the coaches did everything possible the night before, the week before, to prepare us for that day, to give us a game plan that's going to be successful out there," said Cutler of the Bears' new coaching set-up.
"There's no doubt in my mind that [the coaches] are going to give us plays that are going to work. Our biggest concern is us as players being able to execute them and knowing our assignments."