NFL: Chicago Bears snatch late victory against NFC North rivals Minnesota Vikings
The Bears maintained their winning start to the NFL season after snatching a last-gasp 31-30 win over the Vikings.
Last Updated: 15/09/13 11:45pm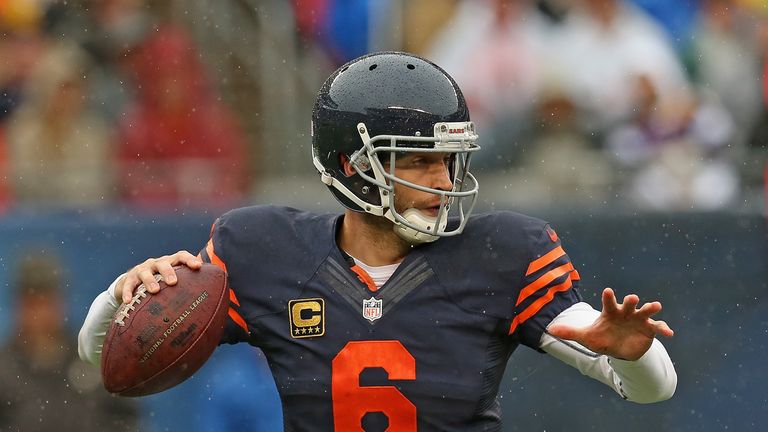 A number of turnovers had tipped the clash in the favour of the visitors, but Chicago quarterback Jay Cutler orchestrated a 66-yard touchdown drive to win the game in the closing stages.
Cutler threw for 290 yards and three touchdowns, finding tight end Martellus Bennett with a 16-yard pass with just 10 seconds left before Robbie Gould's extra point condemned the Vikings to an 0-2 start.
The Vinkings earlier made the perfect start as rookie wide receiver Cordarrelle Patterson took the opening kick-off to the house for a 105-yard touchdown return.
Reurn specialist Devin Hester then took the following restart all the way back to the 32 yard line and after Matt Forte ripped off a big gain on the ground, Bennett took a one-yard pass from Jay Cutler into the end zone.
The Bears then took the lead at the end of the first quarter as Cutler found star wideout Brandon Marshall, who finished with 113 receiving yards, for a 34-yard score.
Turnovers
But Chicago gave up the first of several seemingly costly turnovers as Cutler was strip-sacked by Jared Allen, with Brian Robison returning the loose ball 61 yards for a game-tying touchdown.
An 80-yard return from Hester gave the Bears a chance to retake the lead, but Cutler had a pass tipped in the end zone and Kevin Williams came up with the interception to clear the danger.
However, they would soon be back in front as Christian Ponder's heave to Jerome Simpson was picked off by Tim Jennings and taken back 44 yards for a touchdown.
Ponder responded well, finding Kyle Rudolph in the end zone to tie things up after a 36-yard rush from Adrian Peterson had set things up nicely.
The teams then traded field goals to leave things tied at 24-24 before Cutler threw another interception which Minnesota eventually turned into a second Blair Walsh three-pointer.
The lead was increased to six points when Letroy Guion stripped the ball from Matt Forte for another turnover which turned into a field goal, but Cutler still had time to engineer a game-winning touchdown drive.