NFL: Denver Broncos scored three first-half touchdowns as they beat Oakland Raiders
Peyton Manning ensured Denver Broncos maintained their perfect start to the new season with a 37-21 rout of Oakland.
Last Updated: 24/09/13 10:53am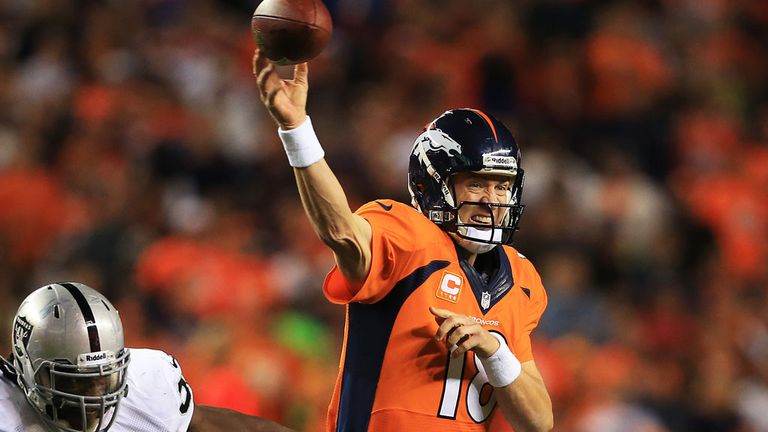 Manning all three of his touchdown passes in the first-half as the Broncos surged into a match-winning 27-7 lead.
The quarterback finished with 374 passing yards while feeding all of his key receivers and the Raiders were simply no match.
Since Manning tied a league record with seven touchdown passes in a season-opening win against Baltimore, Denver have not looked back.
In their latest offensive showcase, Eric Decker had 133 receiving yards, Demaryius Thomas had 10 catches while Wes Welker and Julius Thomas each added touchdown receptions.
"I think (Manning has) started up where he left off last year, improved on that," Broncos coach John Fox said.
"We've added some weapons. He's an incredible player as far as the way he prepares and communicates to his team."
Ronnie Hillman added a 1-yard touchdown run for Denver, who won their last 11 regular-season games last year before losing to the Baltimore Ravens in an AFC divisional playoff game.
The Broncos opened the game by scoring on five of their first six drives. Oakland caught their breath and played better in the second half.
LaMarr Houson sacked Manning to force a fumble in the third quarter and it led to a drive that ended with Darren McFadden's 16-yard touchdown pass to Marcel Reece.
McFadden added a TD run in the last couple of minutes to create the final margin.