NFL: Seattle Seahawks now 4-0, New York Giants beaten again
Seattle Seahawks went 4-0 for the first time in franchise history after a dramatic 23-20 victory over Houston Texans.
Last Updated: 30/09/13 11:10am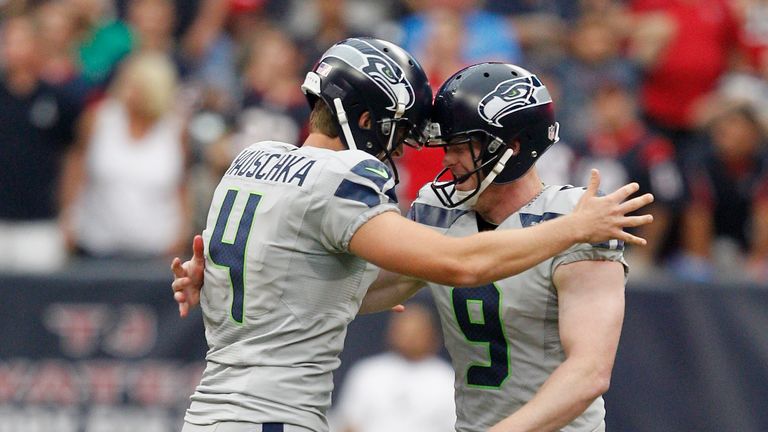 Houston (2-2) failed to score on two possessions in overtime and Hauschka made them pay with a 45-yard effort.
A key play on the winning drive came when Doug Baldwin caught a seven-yard pass and Kareem Jackson was penalised for unnecessary roughness for dumping him into the ground. That got Seattle in field goal range and Hauschka's kick came four plays later.
The Seahawks had earlier rallied to tie the contest at 20-20 in the fourth quarter thanks to an interception return for a touchdown by Richard Sherman.
There was an equally-dramatic finish at Orchard Park where Buffalo Bills rookie linebacker Kiko Alonso's second interception of the game with 57 seconds remaining sealed a 23-20 win over the Baltimore Ravens.
Converted safety Aaron Williams also intercepted Joe Flacco twice, while Fred Jackson had 87 yards rushing and a touchdown for Buffalo (2-2).
The Kansas City Chiefs joined Seattle at 4-0 after pounding the New York Giants 31-7.
The Giants, the proud Super Bowl champions of 2007 and 2011 season, are 0-4 for the first time since 1987 after a mass of injury and disarray.
Alex Smith threw three touchdown passes, Dexter McCluster returned a punt 89 yards for another score and the Chiefs went to 4-0 for the first time since the 2003 team started 9-0.
The injury-ravaged Giants trailed only 17-7 after three quarters. They managed only one TD, on a 69-yard catch-and-run from Eli Manning to Victor Cruz.
Bush stars
Indianapolis Colts overcame a slow start to heap more misery on winless Jacksonville Jaguars 37-3.
Andrew Luck threw two touchdown passes and Trent Richardson ran for a score as the Colts improved to 3-1.
Brian Hoyer threw two touchdown passes in his first start at home to lead the Cleveland Browns to a 17-6 win over the Cincinnati Bengals.
Reggie Bush's 37-yard touchdown run helped Detroit score 27 points in the second quarter and he accounted for 173 yards of offense to help the Lions beat the Chicago Bears 40-32.
Carson Palmer threw a 13-yard touchdown pass to Larry Fitzgerald in the fourth quarter and Jay Feely kicked a 27-yard field goal with 1:29 remaining as the Arizona Cardinals rallied to beat the Tampa Bay Buccaneers 13-10.
Patrick Peterson had two interceptions in the closing minutes, one setting up Arizona's first TD in six quarters and the other to ruin any chance of Mike Glennon pulling off a late comeback in his NFL debut for the winless Bucs (0-4).
Feely also kicked a 42-yard field goal for the Cardinals (2-2), who trailed 10-0 entering the fourth quarter.
A career-high three touchdown passes from Jake Locker saw the Tennessee Titans to a 38-13 victory over the New York Jets.
The Denver Broncos racked up a franchise record number of points as they thumped the Philadelphia Eagles 52-20.
Peyton Manning threw two TD passes each to Demaryius Thomas and Wes Welker to take his tally to a record-breaking 16 in the first month of the season.
The Washington Redskins overcome an early 14-point deficit to beat the Oakland Raiders 24-14 for their first win of the season.
The New England Patriots moved to 4-0 after they held off Atlanta Falcons 30-23 - with Tom Brady throwing for 316 yards and two touchdowns.