NFL UK chief remains cautious over calls for London to host franchise
NFL UK managing director Alistair Kirkwood says London is still a long way away from hosting an NFL franchise.
Last Updated: 01/10/13 2:31pm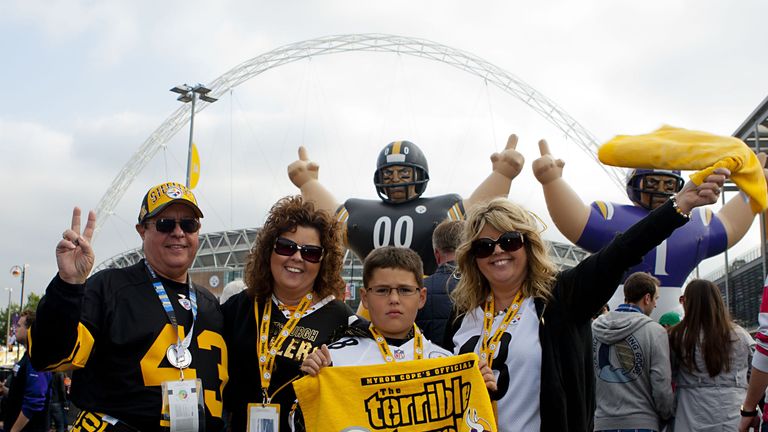 A sold-out Wembley watched the Minnesota Vikings grab their first win of the season with a 34-27 triumph over the Pittsburgh Steelers on Sunday evening - the first of two games to be played in London this season with San Francisco and Jacksonville meeting on 27 October.
Wembley first hosted the International Series in 2007, when the New York Giants defeated the Miami Dolphins 13-10 in the first NFL game to take place outside of North America and the league has returned to the capital every year since, leading to calls for the city to have its own team
But Kirkwood offered a note of caution, telling Sky Sports News: "We should still continue to take it one step at a time. We've substantially grown our fanbase in the UK, but I still think we're a little bit away before we can credibly talk about having a London franchise.
"There are logistical issues. There are 53 players in a squad so even the locker rooms at Wembley are a challenge, but as teams have come over, they've gone back and told other teams that it's a really great thing to do.
"The Patriots and Giants have said really great things about being over here and that's made a real difference.
"Of course, fans coming out in their droves and selling out games so quickly gives the league office in New York a lot more confidence."
Kirkwood revealed that Wembley could host three games next season, adding: "Hosting two games this year is a big thing. We're now talking internally about whether we host two or three games next year.
"It depends on scheduling and team availability and hopefully we'll know in a couple of weeks and be able to make an announcement before the game at the end of October."