NFL: Oakland Raiders move to 2-3 after victory over the San Diego Chargers
The Oakland Raiders held off a late fightback from the San Diego Chargers to register a 27-17 victory.
Last Updated: 07/10/13 7:55am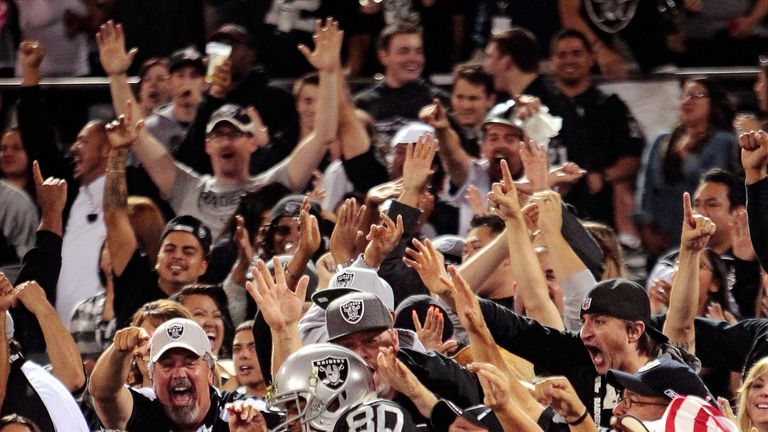 The Raiders had looked like they were cruising to a second win of the season as they opened up a 24-3 lead going into the final quarter.
However the Chargers threatened a dramatic turnaround with two touchdowns, before Sebastian Janikowski's second field goal edged Oakland to victory.
The Raiders had got off to a flying start with two touchdowns in the opening quarter. Terrelle Pryor connected with Rod Streater for a 44-yard touchdown before a two-yard TD pass to Denarius Moore doubled Oakland's tally.
Fumble return
Janikowski landed a 47-yard field goal to make it 17-0 before the Chargers finally got on the board with Nick Novak's 35-yard field goal.
Charles Woodson seemingly put the result beyond doubt, though, with his 25-yard fumble return after Danny Woodhead had coughed up possession. That tied Woodson with Rod Woodson and Darren Sharper for the most defensive touchdowns of all-time with 13.
However the Chargers came storming back in the final quarter as Philip Rivers connected with Woodhead and Keenan Allen for touchdowns.
However Janikowski calmed Oakland's nerves with a 50-yard field goal to give the Raiders a 10-point cushion.
Rivers, who had led the fightback, completed 36-of-49 passes for 411 yards and two touchdowns, although he was picked off three times and sacked twice.
Pryor competed 18-of-23 passes for the Raiders, throwing for 221 yards and two touchdowns.