NFL: Son of Vikings' Adrian Peterson dies after alleged assault
The NFL has been rocked by the tragic death of reigning MVP Adrian Peterson's two-year-old son after an alleged assault.
Last Updated: 12/10/13 10:10am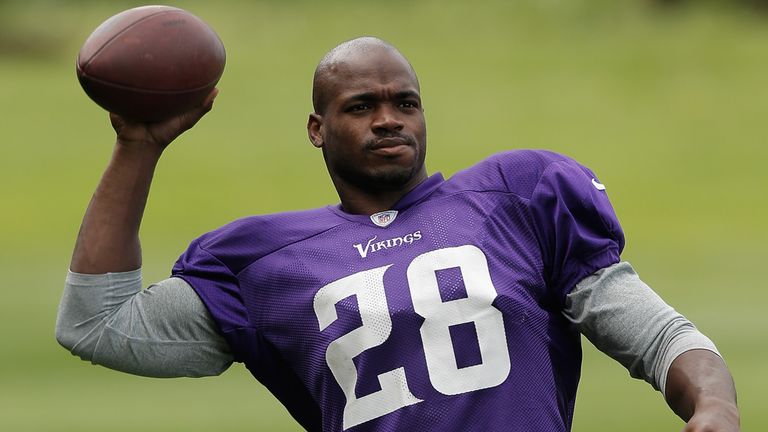 Peterson had missed training during the week to travel to Sioux Falls in South Dakota, where his son lived with his mother, shortly after the incident.
Peterson's son had been in hospital since Wednesday following an alleged assault by his mother's new boyfriend.
The 27-year-old man was charged with aggravated assault and aggravated battery of an infant, but those charges will now be reviewed after the two-year-old sadly died on Friday.
Minnesota Vikings running back Peterson had earlier addressed the media on Friday and said he would play for his team against the Carolina Panthers on Sunday.
It remains to be seen if he will still go out onto the field after the news of his son's passing.
Support
"Thank you to my family, my fans and fans of other teams for their support," Peterson wrote on Twitter Friday night.
"The NFL is a fraternity of brothers and I am thankful for the tweets, phone calls and text messages from my fellow players. God Bless everyone and thank u so much."
Vikings coach Leslie Frazier will talk to Peterson on Saturday to try and determine whether he will still play against the Panthers on Sunday after suffering such a tragic loss.
Peterson had told reporters that he would be playing Sunday, adding that getting out on the field would be the best way to get through tough times.
"Football is something I will always fall back on," Peterson said. "It gets me through tough times. Just being around the guys in here, that's what I need in my life, guys supporting me. I'm able to release a lot of my stress through this sport, so that's what I plan on doing."
Peterson has 421 rushing yards and five touchdowns so far this season, and was the MVP last year as he came just nine yards short of Eric Dickerson's single season record.