NFL: Philip Rivers pulls the strings as the Chargers edge out the Colts
Philip Rivers guided the San Diego Chargers to a 19-9 victory over the Indianapolis Colts on Monday night.
Last Updated: 15/10/13 6:41am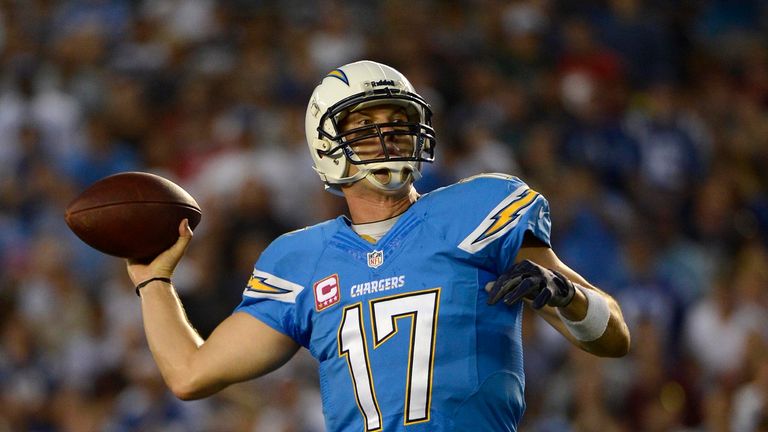 Rivers threw a 22-yard pass to rookie Keenan Allen for the only touchdown but it was his game management that stole the show.
Rivers led three scoring drives of at least 74 yards, helping the Chargers to dominate possession - and leaving rival quarterback Andrew Luck a frustrated spectator.
Luck had played a key role as the Colts had rallied to beat Seattle last time out, however he had little chance to shine against San Diego.
Luck was not helped as the Colts receivers dropped too many passes, with the 24-year-old completing 18-of-30 passes for 202 yards and one interception.
Drive
Rivers, though, completed 22-of-33 passes for 237 yards, with Ryan Mathews rushing for 102 yards and Allen making 107 yards from nine receptions.
Adam Vinatieri had given the Colts the lead with a 30-yard field goal, only for the Chargers to reply through Allen's touchdown - with the score coming off the back of a 12-play, 74-yard march.
A 17-play made 79 yards and provided Nick Novak with the position to kick a 31-yard field goal.
Vinatieri cut the deficit with a 50-yard field goal, however the Chargers again drove back downfield - with 11 plays resulting in a 33-yard field goal for Novak.
A 15-play, 74-yard drive again saw Novak land a 34-yard field goal to give San Diego a 16-6.
Vinatieri's monster 51-yard field goal gave the Colts hope, but Novak ensured the Chargers moved to 3-3 with a 50-yard field goal.