NFL: Lawrence Okoye the main attraction as San Francisco 49ers face Jacksonville Jaguars
San Francisco 49ers coaches remain cautiously optimistic about Lawrence Okoye's transition from Olympian to NFL star.
Last Updated: 24/10/13 1:11pm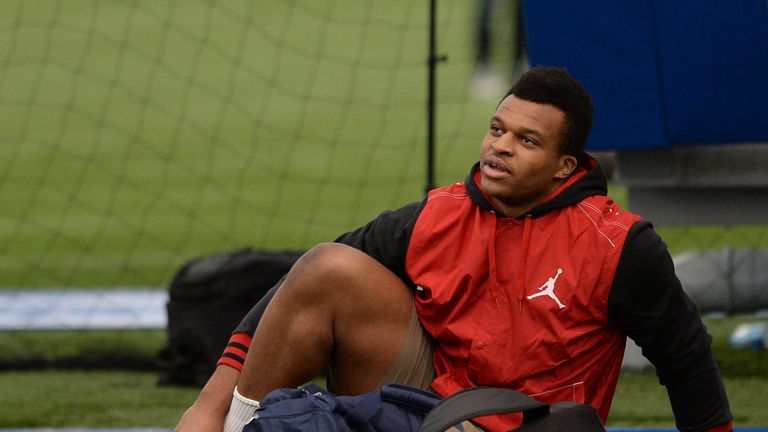 Despite not even being on the team this week, Okoye is obviously the main attraction for the press in the UK as the San Francisco 49ers prepare to face the Jacksonville Jaguars at Wembley on Sunday.
Okoye's storyline is one of the biggest of the week in London, although he has been left frustrated by a knee injury that has left him on the injured reserve list and unable to play this season.
After reaching the Olympic discus final at London 2012, Okoye has started right from at the bottom in the NFL, but both his physical gifts and his cleverness and willing attitude has made nothing but positive impressions at the Niners.
Defensive line coach Jim Tomsula, who used to work at the London Monarchs in NFL Europe, was a main reason for Okoye joining the 49ers, and he remains his biggest fan.
Football nerd
"He's a football nerd right now," said Tomsula. "It's all football. He talks it. He eats it. He sleeps it."
"The guys get on him because he can tell you where everybody's from. He can tell you what school they went to, what high school, how tall they were in the ninth grade, how tall they are now. He can go through the statistics."
Being thrown into training camp with such a ferocious group of defensive lineman was a baptism of fire for Okoye, and with his injury nearly healed he can't wait to get back into it, as he now thinks as an NFL player.
"I'll be 100 percent in the next few weeks," Okoye said. "I feel like I think like a football player now. I definitely didn't think like a football player before. I didn't have the football IQ that I have now a couple months ago or even a month ago. I'm improving every day.
"Physically, I always felt like I was up the standard. I can't declare myself as a football player until I get out on the field.
Training camp
"Training camp was good because that's the hardest thing I could've gone through. Having zero experience and going out against Joe Staley and Mike Iupati was a nice, rude awakening."
Head coach Jim Harbaugh says Okoye has been one of the most popular members of the team this week with his local knowledge, and remains cautiously optimistic about his future.
"Can't say that I can tell you if it's going to eventually work," 49ers coach Jim Harbaugh said. "But, he's on the right track and it's got possibilities still. So, still excited about it.
"He's a very bright guy. And he can regurgitate the information, yes. But, as far as still can he translate that to actually playing, we got somewhat of a glimpse of that and there was steady progress. But, we won't know again until he gets back out there on the field.
"American football is one of those games you get better at football by playing football. And he'll need more of that."