NFL Wembley: Cowboys, Lions and Dolphins confirmed as International Series games in 2014
The NFL has confirmed that the Dallas Cowboys, Detroit Lions and Miami Dolphins will all play at Wembley next year.
Last Updated: 25/10/13 8:55am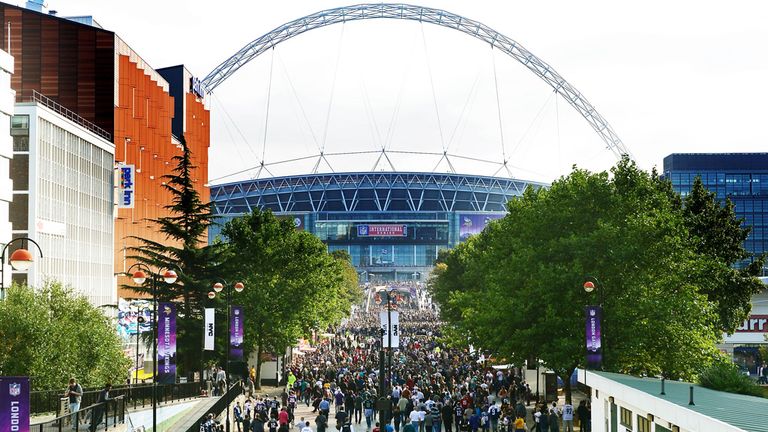 The Detroit Lions will be the opposition for the Atlanta Falcons, who are also staging a 'home' game in London, while the trio of games is made up with the Miami Dolphins making the trip over to face the Oakland Raiders.
The Jaguars are taking on the San Francisco 49ers on Sunday in the first of four games they will play at the venue over the next four years, and they will face another storied franchise in the shape of the Cowboys.
Dallas are one of the most followed teams in America, and their popularity over the other side of the Atlantic is also up there amongst the biggest.
The Cowboys played at the old Wembley Stadium twice, in the first American Bowl in 1986 and then again in 1993 - when they faced the Lions in Detroit's only previous visit to the UK.
Oakland also played at the old Wembley in 1990, while the Dolphins played in the first International Series game against the New York Giants in 2007, which has kick-started a huge growth in NFL in the UK.
"Our fans in the UK continue to demonstrate their passion for more football," said NFL commissioner Roger Goodell said. "Next year for the first time we will play three regular-season games in London.
"We have scheduled three attractive games with four teams playing in their first International Series game. The growing enthusiasm for the NFL internationally is exciting and we look forward to continuing to respond to this interest in our game.
"I don't rule out a franchise here in the UK, based on the fans' support and interest in the game. If it continues to grow that is a real possibility.
"At some point it will become obvious that a team could be successful here and then we would have to figure out some other issues."
Miami rank as the second most popular team in the UK amongst NFL fans, while there will be plenty of home interest for the Raiders too with two British players on their team in Jack Crawford and Menelik Watson.