Miami Dolphins players offer support to suspended Richie Incognito
Miami Dolphins players have defended Richie Incognito as the investigation continues into allegations of bullying.
Last Updated: 10/11/13 8:48pm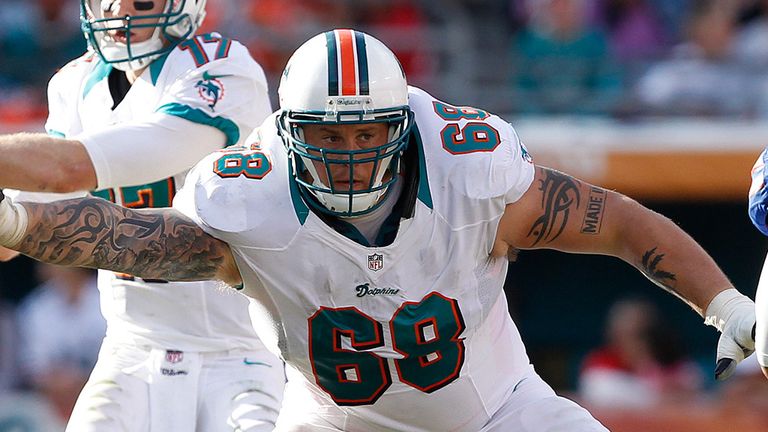 Rookie Martin, who has since left the club, claims to have been the target of sustained harassment by senior team-mates including guard Incognito, whose relationship with Martin is being looked into.
Reports in the United States claim Martin checked himself into a hospital to be treated for emotional distress before returning home to be with his family.
The Dolphins suspended Incognito on Sunday for 'conduct detrimental to the team' after receiving evidence from Martin's representatives that they deemed to be inappropriate.
While the team continues preparations for a Monday night showdown with the Tampa Bay Buccaneers, it appears the Dolphins locker room is backing Incognito, who has been with the team since 2010.
Tackle Tyson Clabo said: "Richie didn't treat anybody differently to the way he treated anybody else. He treated everyone the same.
Treatment
"I haven't been here very long but I've been here long enough to see, if there was a problem, Jonathan Martin didn't show it and I've been here long enough to know that off the field the two guys were thick as thieves and that they went out together.
"I think if you have a problem with somebody - a legitimate problem with somebody - you should say, 'I have a problem with this,' and stand up and be a man.
"I don't think what happened is necessary. I don't know why he's doing this. And the only person who knows why is Jonathan Martin."
Defensive end Cameron Wake added: "His locker is right here, next to me. I didn't have a problem with him. We had a great time out in Hawaii at the Pro Bowl and he's a hell of a player.
"It's disappointing and it's sad on our part."