NFL: Preview as Minnesota Vikings play Washington Redskins live on Sky Sports
The 5-3 Washington Redskins travel to face the lowly Minnesota Vikings in our live Thursday night game on Sky Sports.
Last Updated: 07/11/13 6:26pm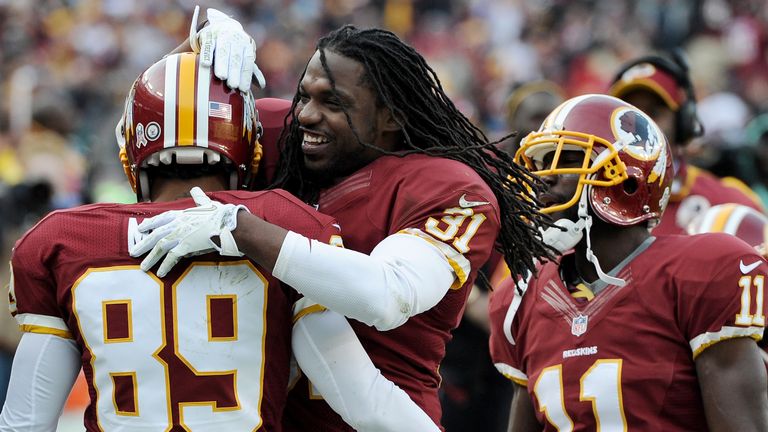 The Skins (3-5) have been consistently inconsistent this season, but their fortunes could be linked to quarterback Robert Griffin III's knee, which is showing big signs of improvement in recent weeks.
They face a 1-7 Minnesota team with huge problems on both sides of the ball and still looking for their first win in the United States this season - their solo triumph came at Wembley against the Pittsburgh Steelers.
Coming off ACL surgery, Griffin looked a little hesitant early on but has been a lot more lively recently, and has 257 yards rushing this season so far.
Washington won their last seven games to grab a first NFC East title in 13 years last season, and their fans will be hoping for a similar run this time around after beating San Diego in overtime last week.
Wide open division
With nobody really standing out in the NFC East, Griffin thinks the title is there for the taking, although he himself must settle into a more consistent level of play for that to be a possibility.
"The fans want to have something to believe in, and the players want to have something to believe in," Griffin said. "And because of the way our division is set up right now, we have something to believe in and we know we can control our own destiny."
Washington put up 500 yards of offence against the Chargers last week, and there is a distinct difference in Griffin's play in their three wins (64.1 percent pass completion, 816 yards and two turnovers) and their last two defeats (49.3 percent, 378 yards and five turnovers) which needs ironing out.
If he can, then Alfred Morris with his league-leading 5.2 yards per carry will provide a steady run game while full-back Darrel Young will suddenly be on the Vikings' radar after he barged in for three TDs last time out.
Defence has been a big problem for Mike Shanahan's side though this season with them ranking 30th in total defence and 31st in points allowed - but their saving grace on Thursday will be the anaemic Vikings offence coming in at just 27th best in the NFL.
Quarterback problems
The continuing quarterback merry-go-round in Minnesota hasn't helped matters, but Christian Ponder will start again for the third game in a row after Josh Freeman lasted just one game against the Giants before concussion ruled him out.
Play calling and the use of star man Adrian Peterson has also been an issue. He was given no more than 13 carries in three straight unproductive games before recording 140 yards and a TD against Dallas last week from 25 attempts.
A heavy dose of Peterson will be called for again against Washington, and even if they know it's coming they will not totally stop a man who has averaged 6.1 yards per carry when facing eight men in the box this season (the league averaged is 2.8 yards).
Ponder is an apt name for a quarterback who seems to do exactly that in passing situations, holding on to the ball for two long, being reluctant to pull the trigger and when finally letting the ball go interceptions have been a real problem.
Throw in a broken foot for tight end Kyle Rudolph, Ponder's main safety valve, and the QB could more often than not tuck and run, given his surprising success on the ground with 113 yards and four TDs from 13 carries in his last three games.