NFL: Minnesota Vikings fightback to deny the Washington Redskins
Two touchdowns from Adrian Peterson and some determined defence helped the Vikings to victory over the Redskins.
Last Updated: 08/11/13 7:40am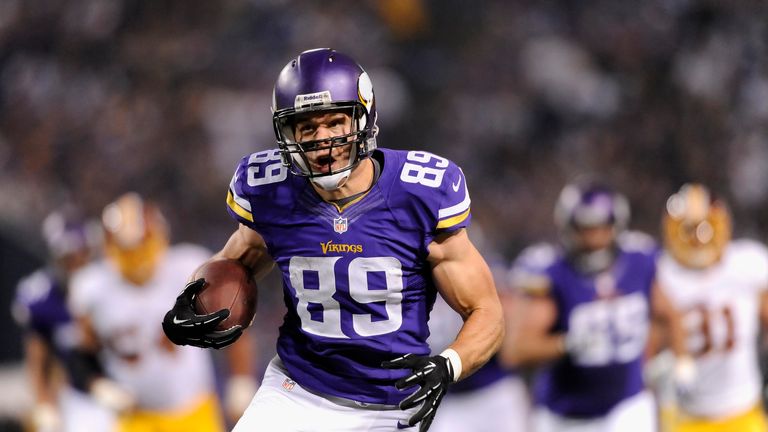 Peterson ran for 75 yards in total and John Carlson had seven catches for 98 yards and a touchdown but the Vikings needed to stop the Redskins at the 4 in the final seconds to hold on.
Vikings quarterback Christian Ponder also completed 17-of-21 for 174 yards with two touchdown passes and an interception before his night was ended prematurely by a shoulder injury.
Kai Forbath had given Washington the lead with a 20-yard field goal but Minnesota responded through Peterson's first touchdown - the 28-year-old rushing over from 18 yards.
Robert Griffin III, who went 24 for 37 for 281 yards and three touchdowns, connected with Pierre Garcon from eight yards to move the Redskins back into a 10-7 lead.
Hit back
Ponder's two-yard TD pass to Cordarrelle Patterson moved the Vikings back in front before the Redskins looked to have built a decisive lead.
Griffin connected with Jordan Reed from 11 yards and then with Logan Paulsen from a yard to make the score 24-14 at the break.
A 40-yard field goal from Forbath extended that lead but it would be the last scoring play for the Redskins as Minnesota hit back.
Ponder's 28-yard TD pass to Carlson kick-started the comeback, with Peterson then scooting over from a yard to move the Vikings into the lead.
Blair Walsh landed field goals from 39 and 40 yards in the final quarter and although Washington pushed hard late on the Vikings (2-7) defence held out.