NFL: Andrew Luck guides Indianapolis Colts to comeback victory against Tennessee Titans
Indianapolis Colts recovered from 17-3 down to beat Tennessee Titans 30-27 on Thursday.
Last Updated: 15/11/13 10:39am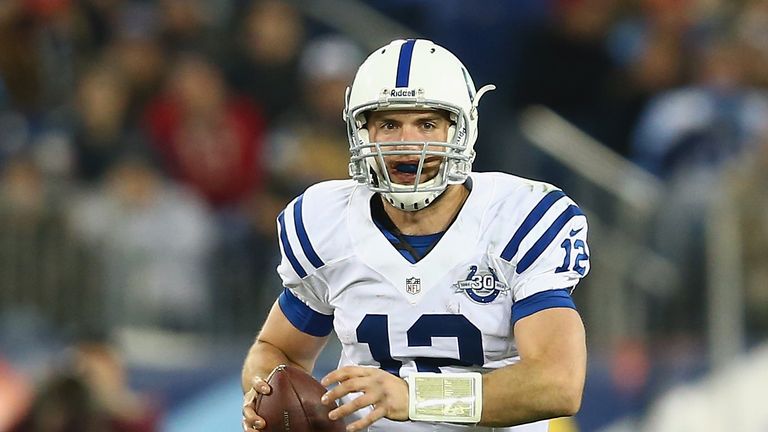 Chris Johnson had rushed over for two touchdowns in the first quarter to give the Titans a commanding lead at LP Field.
However with Andrew Luck pulling the strings, the Colts rallied in impressive fashion to move to 7-3 for the season.
Luck completed 23-of-36 passes for 232 yards and scored a third-quarter touchdown to turn the tide for Indianapolis.
Donald Brown also ran in two touchdowns, while Adam Vinatieri kicked three field goals as the Colts erased memories of their 38-8 home defeat to St Louis.
Rushed
Johnson, who rushed for 86 yards from 17 carriers, crossed from 30 yards and seven yards as Tennessee moved into a 14-0 lead.
Vinatieri landed a 48-yard field goal to get the Colts up and running, only for Rob Bironas to cancel it out with a 25-yard effort of his own.
Vinatieri's 30-yard field goal, though, sparked a 20-point run from the Colts.
Brown rushed over from six yards, while Luck scampered over from 11 yards. Vinatieri then landed a monster 50-yard kick moved 23-17 ahead.
Bironas landed his second field goal to cut the deficit only for Brown to score off an 11-yard run to give the Colts a 10-point lead.
Ryan Fitzpatrick, who completed 22-of-28 passes for 222 yards, connected with Delanie Walker to give the Titans hope but the Colts were able to see out the victory.
The result lifts Indianapolis to 7-3, well clear of second-placed Tennessee (4-6) in the AFC South.