NFL: Detroit Lions beat Green Bay Packers to end long wait for Thanksgiving win
The Detroit Lions ended a 10-year wait for a win on Thanksgiving as they crushed the Green Bay Packers 40-10.
By Alex Williams
Last Updated: 29/11/13 12:46am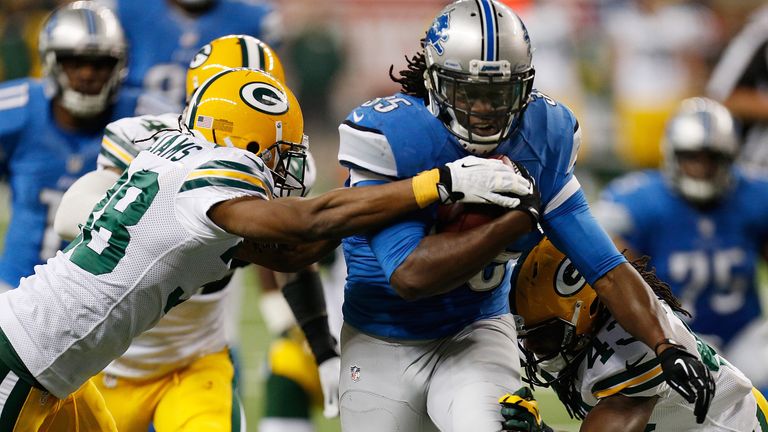 The Lions had not won their traditional Turkey Day contest since 2003 but were far too strong for a Green Bay side which was missing star quarterback Aaron Rodgers.
Detroit opened up a half-game lead - at least temporarily - at the top of the NFC North after a contest in which the Packers amassed just 126 net yards of total offence in comparison to their opponents' 561.
Stand-in quarterback Matt Flynn was sacked seven times as Detroit dominated behind a fearsome defensive front and a stout running game which saw both Reggie Bush (117 yards) and Joique Bell (94 yards) excel.
The Lions set the tone early on and took control in the first quarter, but a fumble from Bush prevented them from putting any points on the board.
They opened the scoring at the start of the second quarter as David Akers kicked a field goal after a lengthy drive stalled in the red zone, but Green Bay kicker Mason Crosby responded with a 54-yard kick of his own to tie things up.
Touchdown
The Packers then took the lead soon after as Nick Perry got around Matt Stafford's pass protection and caused the quarterback to fumble as he threw, with Morgan Burnett running in the loose ball for a touchdown.
Stafford, who finished with 330 passing yards, three touchdowns and two interceptions, then committed another turnover on the next possession, tossing a careless pick to Packers cornerback Tramon Williams.
But the visitors could not capitalise and Stafford recovered to lead his team downfield for their first touchdown, finding Jeremy Ross in the end zone with a five-yard pass to make it 10-10.
Former Green Bay receiver Ross then returned a punt 35 yards to set up another scoring drive, which was capped by Bush running in untouched to give the Lions the lead at the half.
Detroit continued to march down the field at will at the start of the third quarter and extended their advantage to 14 points when Calvin Johnson bounced off a tackle to take a 20-yard pass in for a touchdown.
Stafford was intercepted in the end zone while trying to put his team even further ahead but that proved irrelevant as Flynn was first picked off then sacked in the end zone for a safety.
Bell then ran in for another touchdown to kill the contest off and spectacular one-handed grab in the end zone by Kevin Ogletree completed the rout.