NFL: New England Patriots tight end Rob Gronkowski suffers torn ACL and MCL
New England Patriots tight end Rob Gronkowski faces long spell on sidelines with torn ACL and MCL in his right knee.
Last Updated: 09/12/13 3:41pm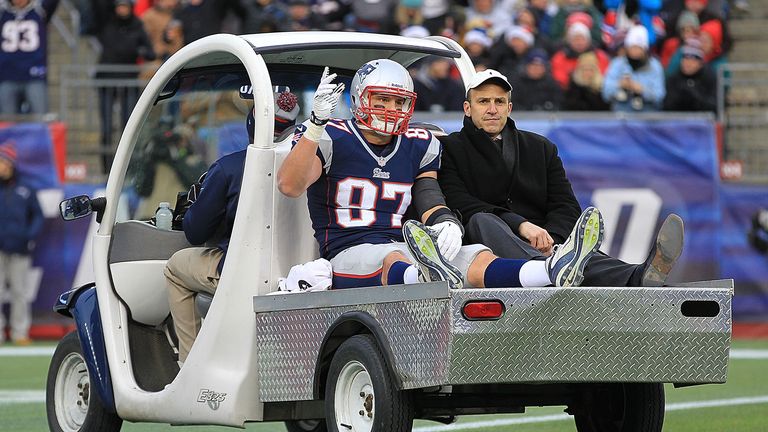 Gronkowski was hurt in a clash with Browns safety TJ Ward, who went low to stop him on a 21-yard reception from quarterback Tom Brady in the third quarter of a match the Patriots went on to win 27-26.
His right knee buckled and he lay on the Gillette Stadium turf for some time being treated before being carted off the field.
Gronkowski went to hospital for an MRI scan on his knee and results have shown two tears which end his year and will make it tough for him to be 100% in time for the start of the 2014 season.
The 24-year-old had only just returned to health after missing the first six weeks as he recovered from multiple off-season back and forearm surgeries.
Bad dream
Directly after the injury, Patriots special teams captain Matt Slater said: "It's like you're in a bad dream and you're hoping you wake up and it wasn't really happening.
"My heart is broken for Rob and having to see him go through that, seeing him in pain, and realising what he has been through in his young career, it's heartbreaking, it really is.
"You can't help but think about that. They always say 'injuries are a part of the game, injuries are a part of the game,' but that doesn't mean you get used to it.
"Guys are out here putting their bodies on the line week in and week out. That kid has been through so much, and he's worked his butt off to overcome a lot of different things at a young age.
"He means so much to this football team, not only what he does on the field, but in the locker room - his presence. He brings a child-like joy to the locker room."