NFL: Chicago Bears register convincing win over the Dallas Cowboys on Monday night
The Chicago Bears have grabbed a share of the lead in the NFC North after a 45-28 rout of rivals the Dallas Cowboys.
Last Updated: 10/12/13 11:54am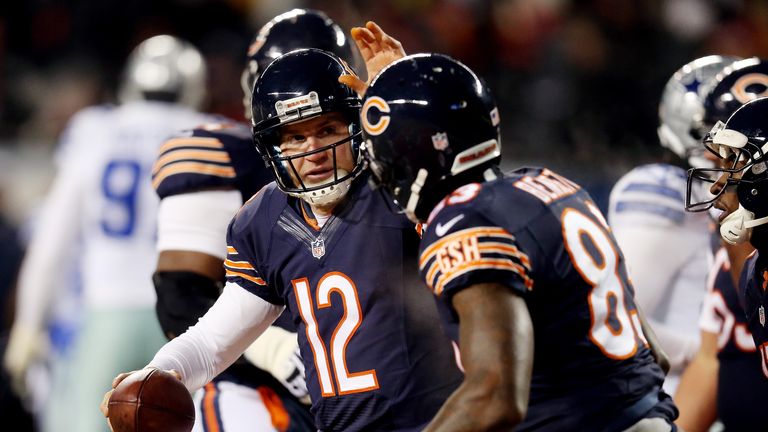 Josh McCown threw a career-high four touchdowns, with the Bears scoring on their first eight possessions to dent the play-off hopes of the Cowboys.
A victory for Dallas would have moved them to the top of the NFC East - however they are now a game behind the Philadelphia Eagles, who defeated the Detroit Lions in the snow on Sunday.
McCown completed 27-of-36 passes for 348 yards, with the 34-year-old also rushing over for a touchdown.
Kicker Robbie Gould added three field goals, while Matt Forte rushed for 102 yards and Brandon Marshall had 100 yards on six receptions as the Bears moved level with the Lions in their division.
Things had started so well for Dallas as Tony Romo connected with Dez Bryant from two yards to give them the lead.
However the Bears hit back as McCown tossed a four-yard scoring pass to Earl Bennett before going in from seven yards on the ground for a touchdown of his own.
Blitz
The Cowboys levelled after Romo, who threw for just 104 yards, found tight end Jason Witten with a 10-yard TD pass.
That was as good as it got for Dallas, though, as a 28-point blitz put the Bears out of sight.
Gould landed a 27-yard field goal and Alshon Jeffery scored on a 25-yard pass from McCown as Chicago lead 24-14 at the half-time break.
Gould was on target from 34 yards before McCown connected with Forte (four yards) and Michael Bush (17 yards).
The Cowboys finally replied when Romo hit Cole Beasley with a nine-yard TD pass, only for Gould to slot over another field goal, this one a virtual chip shot from 23 yards out, for the Bears.
Dallas had the final word through Joseph Randle one-yard scoring run but it wasn't enough to prevent them from dropping to 7-6 for the season.