NFL: New England Patriots thump Baltimore Ravens when winning AFC East title
The New England Patriots celebrated another AFC East title with a 41-7 victory over reigning champions Baltimore Ravens.
Last Updated: 23/12/13 10:53am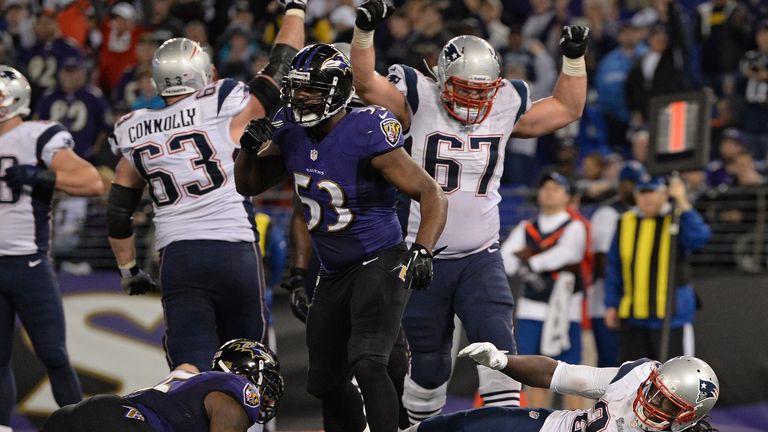 The Pats had already been assured of an 10th AFC East title in the last 11 years, and a fifth straight, before the game thanks to the Miami Dolphins losing against Buffalo.
They still had an axe to grind with the Ravens though, who beat them in the AFC Championship game last year before going on to life the Super Bowl in New Orleans.
Tom Brady and company made amends for that loss though, and also struck a blow to Baltimore's chances of making the play-offs, as the loss ruled them out of winning the AFC North and dropped them into a tie with San Diego and Miami for the final wildcard spot.
Baltimore ran more plays and produced more yards of offence - Joe Flacco threw for 88 more yards than Brady, but he looked obviously slowed by a troublesome left knee injury as he was intercepted twice.
In truth it was a stroll for the Pats behind a pretty dominant defensive display where they forced four turnovers and turned two of those into immediate touchdowns.
Chandler Jones recovered a wayward snap in the end zone that eluded back-up Ravens quarterback Tyrod Taylor, while Tavon Wilson tied a bow on the win as he picked off Flacco and went 74 yards for the closing score inside the final minute.
Power running
Running back LeGarrette Blount scored twice and ran for 76 yards for the Patriots - with Shane Vareen catching a four-yard pass from Brady as the Pats built a commanding 20-0 lead by the end of the third quarter.
Brady's 172 yards passing and one touchdown were modest by his standards, but it was enough for him to clinch his 11th divisional title - two more than any other quarterback in NFL history.
"They're all special. It's hard to come by, and this team's really fought hard all year," said Brady. "We've earned it. Eleven wins in the NFL's not easy, and to win a division title's not easy."
Flacco managed to get into the end zone from a yard out for Baltimore's only score, as even the reliable Justin Tucker missed a 37-yard field goal to end his run off 33 consecutive successful kicks.
The result puts the Patriots on to 11-4 and a game behind Denver heading into the final game of the season, with a win needed and Broncos defeat to capture the top seed and home field advantage in the play-offs.
Baltimore drops out of the play-off spots with just one game to go - which for them is a road trip to newly-crowned AFC North champions Cincinnati with a win needed and results elsewhere going their way to sneak back into the post-season.