NFL: Tony Romo a big doubt for Dallas Cowboys game with Philadelphia Eagles
The Dallas Cowboys could be without starting quarterback Tony Romo for Sunday's play-off showdown with Philadelphia.
Last Updated: 24/12/13 2:13pm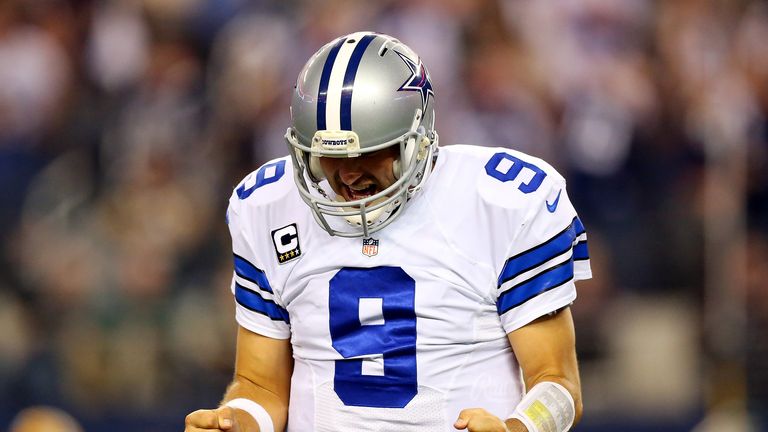 It is believed that Romo, the Cowboys' starter since 2006, has a herniated disc that will require surgery eventually, which he aggravated during last Sunday's thrilling win at Washington.
Romo managed to play through the pain against the Redskins, and led his team to ten points, including the game-winning touchdown in a one-point win, but it is believed he is unlikely to be able to suit up again this weekend.
The Cowboys host divisional rivals Philadelphia with the NFC East and a place in the play-offs up for grabs in Texas in what will be the final game of the regular NFL season.
Dallas refused to rule Romo out of the reckoning as he continues to be assessed over Christmas, but his status form the game remains a huge question mark - with back-up Kyle Orton is the only other quarterback on the team.
"Obviously, he was able to play through it and play very well at the end of that ball game," said Cowboys coach Jason Garrett. "We evaluated it after the game and again this morning (Monday). He's getting treatment and the MRI was part of the evaluation.
"There's going to be a series of different things we do for his treatment over the next few days and see how he responds to it."
Romo critics
Romo has more than his share of critics, mainly for some of his decision-making during big games, but a sign of his quality is that Cowboys fans would much rather see him under centre for such a huge game than back-up Orton.
The Cowboys did pay $3m to have an experienced back-up in Orton, who has 69 NFL starts to his name, but he still represents a downgrade on Romo, who has been having a fine season with 3,828 yards, 31 touchdowns and just 10 interceptions.
Dallas are also taking a look at free agent quarterbacks David Carr, Tyler Thigpen and John Skelton in case Romo is unable to go.
"We probably will sign another quarterback, just because Kyle Orton is the only other quarterback we have on our roster - we don't have a quarterback on our practice roster," Garrett added. "We'll probably make that determination here in the next couple days."
Owner Jerry Jones insists that his main man could still yet be cleared to play - and it is clear they will try everything to get him on the field with their season on the line.
"All I'm saying is he has back spasms, symptoms that we're treating as we go along in the week to see if he will play," Jones said. "There is nothing structurally that will rule him out if he feels good and is cleared to play. Nothing.
"The facts are there is a lot we can't comment on. But the most important thing is if he feels better as the week goes along, there is nothing structurally to prevent him from playing. He might be cleared to play."