NFL: Quarterback Jay Cutler signs new seven-year deal with Chicago Bears
Chicago have ended speculation over Jay Cutler's future by announcing he has signed a new seven-year contract.
Last Updated: 02/01/14 7:36pm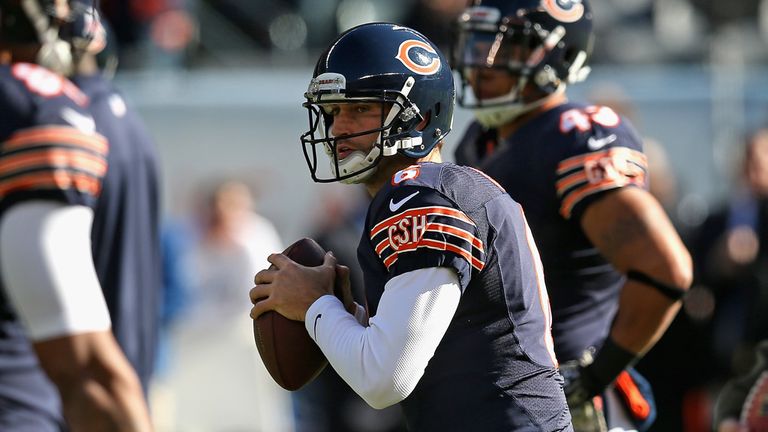 The quarterback will now remain with the Bears until the end of the 2020 season, while guard Matt Slauson and cornerback Tim Jennings have also committed to long-term contracts.
Both Slauson and Jennings have agreed four-year deals until 2017 as the Bears avoided losing three of their key players to unrestricted free agency.
Chicago narrowly missed out on the play-offs this season, but Cutler posted a career-best passer rating of 89.2 despite missing five games with groin and ankle injuries.
The former Denver quarterback 63.1% of his passes for 2,621 yards with 19 touchdowns and 12 interceptions, and he has become the all-time Bears leader in most categories in only five seasons with the club.
Staying put
Cutler insisted he had no desire to put himself on the free agency market, declaring he was delighted to be "married" to head coach Marc Trestman for another seven years.
"I wanted to stay here," he said. "It was going to have to be from the Bears not wanting me back for me to test it.
"We're here to win championships, not to make so-and-so amount of dollars. Whether it's $15m or it's $22m, it's hard to spend all that in your lifetime. (Wife) Kristin (Cavallari) said she'll help."
Bears general manager Phil Emery added: "We are very excited to have Jay for the long term.
"I see improvement in his ball security, distribution to his targets and a transformation is his demeanor as a leader."
New coach
In Marc Trestman's first season as head coach, Chicago finished the regular season with 445 points, second in the NFL and the second best total in Bears history.
They also set franchise records with 6,109 total offensive yards, 4,450 passing yards, 344 first downs and 32 passing touchdowns.
Youngster Alshon Jeffery and star wideout Brandon Marshall both recorded over 1,000 receiving yards, while running back Matt Forte led the ground attack with more than 1,000 yards rushing.
Slauson, who joined the Bears after four seasons with the New York Jets, played a huge role in helping a new-look offensive line protect Cutler and back-up Josh McCown.
Cutler and McCown were sacked only 30 times during the regular season compared to 44 in the previous campaign.
In 2012, Jennings became the first Bears player to lead the NFL in interceptions since Mark Carrier in 1990, picking off nine passes while breaking up a further 16, and he again led the Bears this season with four interceptions.
Don't miss Sky's coverage of the NFL play-offs. Kansas City face Indianapolis on Saturday, live on Sky Sports 1 from 9pm followed by New Orleans v Philadelphia