NFL wildcard weekend: League considers changes to play-off system
The NFL are considering revamping the play-off system by reseeding teams in order of their winning records.
Last Updated: 03/01/14 9:53pm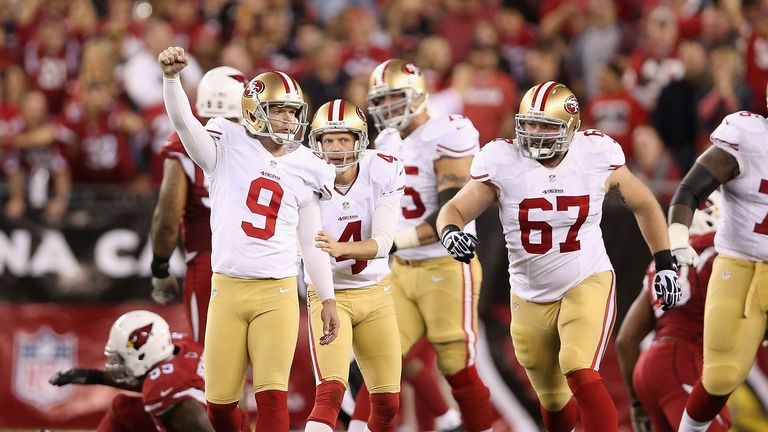 This year, both the San Francisco 49ers and New Orleans Saints have to play on the road as wildcard teams to face opposition with worse records of the season than themselves.
11-5 New Orleans face 10-6 Philadelphia while the 12-4 49ers will play in a freezing Green Bay whose Packers finished 8-7-1 on the season.
The two NFC wildcard matches will make it 15 play-off games in the last seven years in which a team with a superior record has had to play away from home in the play-offs - something which has been noted by NFL owners.
"Every scenario has been discussed, ranging from reseeding to one extra game, expanding from 12 to 14 teams," said NFL spokesman Brian McCarthy said. "Think of a scenario, it's been discussed and remains in play."
Playing at home is a distinct advantage, even more so in the play-offs, and there are stark contrasts this season with the Saints a perfect 8-0 at home but 3-5 on the road and having to play in a chilly Philly instead of inside their Superdome.
Stunned in Seattle
The Saints have come unstuck this way before - they are 0-5 in play-off games on the road and famously lost in Seattle after the 2010 season when, as Super Bowl champions, they finished 11-5 but didn't win their division, meaning they had to travel to face the 7-9 Seahawks who took full advantage of their infamous home crowd.
Playing at San Francisco in a farewell game at Candlestick Park would also be a world away from what the 49ers will face at Lambeau Field - and that could be the coldest conditions ever seen for an NFL game.
''It's a hard pill to swallow, being 12-4 and not having any home games,'' said 49ers defensive tackle Ray McDonald. "But we're in a tough division and that happens sometimes.''
Alternatives have already been discussed, although no vote has taken place as, according to McCarthy, several teams have: ''raised the concern that reseeding would minimize the value of winning a division; winning a division now means a guaranteed home play-off game.''
The league are running out of time to implement any new changes in time for next season, but if the will is there then they could press through changes for the 2014 season - including extending and reseeding all in the same switch.