NFL Divisional round: New Orleans Saints return to Seattle Seahawks
New Orleans have some ghosts to lay to rest when they return to the Seattle Seahawks in Saturday's divisional play-off.
Last Updated: 11/01/14 8:36pm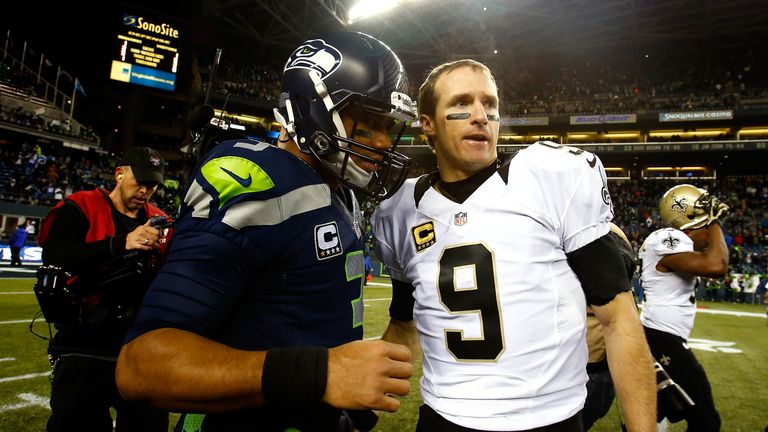 The Saints finally won a play-off game on the road last weekend, but away at Seattle is a totally different ball game, as they found out this season when they were soundly beaten. Can they bury the demons of those two defeats? Or will the Seahawks prove too strong at home?The match is live on Sky Sports 3HD at 9pm.
The 12th man
Home field advantage didn't count for much in the wildcard round, with away teams going 3-1 over the weekend, but CenturyLink Field is a different animal with the Seahawks only losing once there in the last two years.
The fans created record-breaking noise levels in their week 13 game with the Saints - which they won 34-7 - and they have also caused seismic activity in the nearby area. The noise factor cannot be underestimated and does affect the games - visiting teams in Seattle have had far more false start penalties than anywhere else in the league.
Rest v momentum
The Saints only have a week to prepare, but as teams have shown in the past the thrill and confidence from winning a play-off game can easily help overcome any lingering tiredness. Getting over injuries is another story though and they did pick up a few injuries, especially on defence.
Seattle have had an extra week's rest, and they also secured their play-off place before anyone else so the pressure has largely been off. They did suffer a rare home loss towards the end of the season and looked a little lethargic down the stretch so a week off will have done them good - and you wouldn't expect a Pete Carroll team to be caught cold.
Run, run run
Drew Brees had one of his worst games ever last time in Seattle, and he did not have a statistically great game against Philly with a couple of interceptions, which means running the ball will be even more crucial - but they did show that they do have that in the locker.
Mark Ingram carried the load with Pierre Thomas out injured, and he revelled in the responsibility with 97 yards out of the Saints' whopping 185-yard total. Seattle's seventh-best run defence will be tough, but teams have had some success this season and at least some running success will give Brees a chance against that fearsome secondary.
Key men
Marshawn Lynch's 'Beast Mode' has never been better than his 67-yard TD run in their play-off win of 2011, when he rumbled through half the Saints defence along the way. Lynch actually made just 45 yards in their last meeting and they'll look to limit him to something similar on Saturday.
Jimmy Graham scored New Orleans' only TD of the game in December, but he was contained by the Eagles last week. Another monster season resulted in 1,215 receiving yards and league-leading 16 TDs and Brees needs to find ways of getting him the ball to have any success.
It may seem odd in a team of such firepower offensively, but the Saints will be desperate to have cornerback Keenan Lewis available after he was knocked out of the game in Philly with concussion. They had the second-best pass defence in the NFL (behind Seattle) but having lost Jabari Greer and Kenny Vaccaro from the secondary they are getting awfully thin behind Lewis.
Bad memories
New Orleans will be full of confidence from their first play-off win on the road in their history, but there could not have been a worse draw for their next test than a return to the Pacific Northwest three years after their play-off humbling.
Back then, New Orleans were the defending Super Bowl champs while Carroll's developing team were 7-9 winners of a poor NFC West, but they rattled off a massive upset and that, coupled with a whopping win in December, will have the Saints coming out in cold sweats thinking about round three at 'the CLink'.
Verdict
Finally a win on the road, and with a stout running game and decent defence that limited Philly's high-powered offence all gives New Orleans great optimism of turning the tables on Seattle this time around. It's been said for a while though that the road to the Super Bowl would go through Seattle and after a week's rest and with the results already in the book you'd have to go for a home win and a home NFC title game next week for the Seahawks.