NFL play-offs: Quarterbacks expecting high-class clash when Colts visit Patriots
Tom Brady and Andrew Luck both expect a high-class encounter when Indianapolis and New England clash on Sunday.
Last Updated: 09/01/14 10:02pm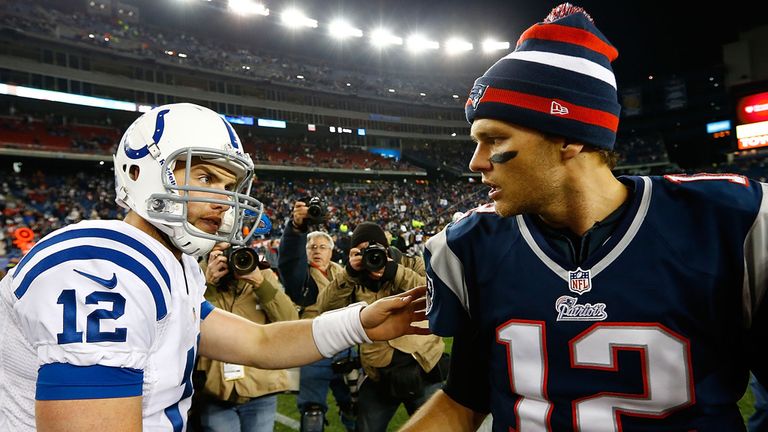 Brady's Patriots enjoyed a bye-week at the weekend while Luck inspired his Colts to rally from 28 points down to overcome the Kansas City Chiefs 45-44 in a pulsating wildcard game on Saturday.
And yet for all that scoring, Brady is wary of the danger posed by the Colts when they haven't got the ball.
"They've got a really good defence," said the three-time Superbowl champion. "They are top 10 in a bunch of categories, have good safeties that cover a lot of ground.
"They have real fast coverage and are physical too. They've got a good team.
"We have to just go out there and try and outscore them. We've got to put points on the board, that's our job."
Luck suffered the worst game of his two-year NFL career against the Patriots 14 months ago, turning the ball over four times, with two of his three interceptions returned for touchdowns in the 59-24 defeat.
He says he's ready for a much better show this time, albeit against a "phenomenal" team.
"They just have good players, you don't want to undervalue that," he said. "They are a phenomenal football team.
"They do a good job of disguising their defences. Everything seems to look the same and you blink for a second and it's completely different and you're screwed up.
"We have to have a great week of practice. We're excited to be facing a great team like them."
All four divisional play-off games are live on Sky Sports this weekend:
New Orleans Saints @ Seattle Seahawks, Saturday 9pm - SS3
Indianapolis Colts @ New England Patriots, Sunday 1am - SS3
San Francisco @ Carolina, Sunday 5.30pm - SS2
San Diego @ Denver, Sunday 9pm - SS2