NFL Divisional round: Four TDs for LeGarrette Blount as New England Patriots beat Indianapolis Colts
New England Patriots made their third straight AFC title game after running in six touchdowns to beat the Colts 43-22.
Last Updated: 12/01/14 5:09am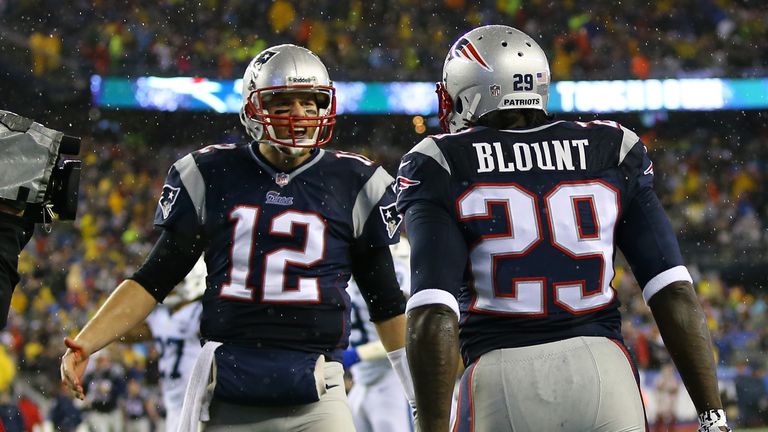 LeGarrette Blount ran in four touchdowns and Stevan Ridley added two more as the Patriots scored six rushing touchdowns, with Tom Brady not throwing a TD pass as the team ran for 234 yards.
Although Brady and Bill Belichick made their eighth AFC Championship game and third in a row, it was a different style of Patriot football as they used the running game, and Blount in particular, to wear down the visiting Colts.
Andrew Luck showed glimpses of last week's brilliance with 331 yards and two TD throws, but he also showed too much of last week's turnover trouble as he threw three interceptions - and this time there was no way back against the ruthless Patriots.
With the win, Belichick tied Don Shula with his 19th play-off win and now trails Tom Landry by just one for the most post-season wins in history by an NFL coach - and that could come next week as they face the Broncos or Chargers for a place in the Super Bowl.
Fast start
It was almost a carbon copy of last week in the first half for Luck and the Colts, as the quarterback saw his pass intercepted on just the third play of the game, with Alfonzo Dennard running it back into the end zone, although he was judged to have gone out of bounds at the one.
From there all Brady did was hand the ball off on the first play and Blount walked into the end zone for his first touchdown of what would be a prolific game.
After forcing a punt Brady moved the Patriots 74 yards with again Blount putting the full stop on the drive with a two-yard run, before Luck finally got moving.
He drove his team 80 yards when hitting LaVon Brazil with a 38-yard TD throw, but Blount answered again as he ran in his third touchdown of the game with the Pats showing their commitment to the run game.
The Colts made it 21-12 at half-time, or rather they were gifted two points when the Patriots made a mess of a punt - with the snap flying over Ryan Allen's head before he attempted a lateral on his own goal line but the ball was knocked behind.
Second half
Adam Vinatieri kicked a field goal just after half time but then the Patriots opened up a 14-point gap as Brady opened his shoulders for once to hit Danny Amendola on a huge 53-yard pass before they mixed it up and let Ridley run in a close-range TD.
Luck showed his brilliance on the next drive, firing a 46-yarder to TY Hilton before a 38-yarder to Brazil in the end zone for his second score of the game and the lead was just seven.
Just as Indianapolis fancied another late comeback, those hopes were extinguished in two fourth-quarter minutes starting with Blount bursting through the line and scurrying away for a 73-yard TD run, his fourth of the game.
Luck was then intercepted for the third time on the very first play of the next series, and although he threw three last week these Patriots are a different animal altogether to the Chiefs, and five plays later Ridley was running in for his second TD of the game.
All Luck could do in response was throw a fourth interception to end the game, and send the Patriots storming into the AFC title game with their new-look running style looking a tough nut to crack for either the Chargers or the Broncos - who they'll face next week.