NFL: Seattle Seahawks ready to host NFC West rivals San Francisco 49ers
Seattle Seahawks head coach Pete Carroll is looking forward to facing San Francisco 49ers for the NFC title on Sunday.
Last Updated: 14/01/14 10:01pm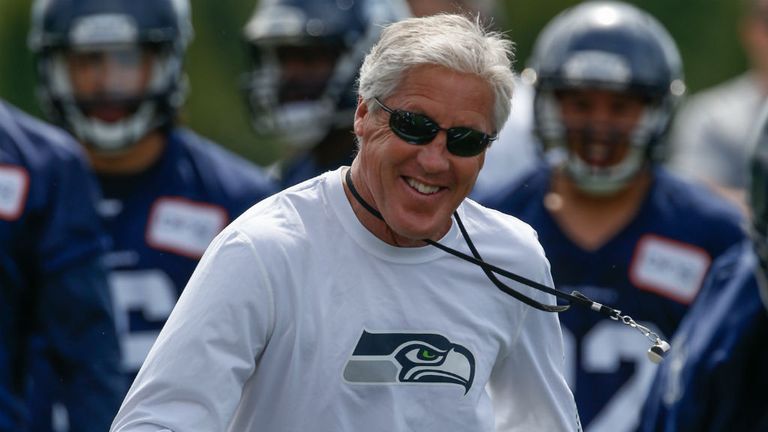 The two NFC West teams go head-to-head at CenturyLink Field knowing a victory will book them a trip to New York for Super Bowl XLVIII on February 2.
The Seahawks won the regular-season meeting at their home venue by a scoreline of 29-3 back in week two, but the 49ers will not fear being on the road having won in Green Bay and Carolina in the play-offs so far.
"I think this match-up is exactly what everyone is looking for," Carroll said.
"It's an exciting one with a lot of background - I'm grateful that it's coming from our division. I think our division really made a statement this year of how good it is.
"When you look at it, this is a fantastic match-up and a great opportunity for both teams.
"We are really thrilled to be going for it and love that it's coming home."
Tough
San Francisco counterpart Jim Harbaugh admits his players have had to do it tough so far in the post-season.
In the wildcard round they saw off the Packers 23-20 thanks to a late field goal, while last time out they became the first team to win in Carolina since the Seahawks in the opening weekend of the campaign.
"Our team has been through a lot of situations - been through tough environments, whether it be weather or opposing stadiums," Harbaugh said.
"This team has been in a lot of situations, we've been everywhere, man. Just like the Johnny Cash song!"
San Francisco will have to cope with the raucous crowd in Seattle - with the home team protecting their home advantage by denying California residents tickets.
"I actually respect it - what you're trying to do for your team, put them in the best possible position to win," Harbaugh told the San Francisco Chronicle. "I respect that their organisation does that for their team."