NFL: Neil Reynolds believes Richard Sherman should not be criticised over rant
Neil Reynolds has defended Seattle cornerback Richard Sherman following his rant at San Francisco's Michael Crabtree.
Last Updated: 24/01/14 2:10pm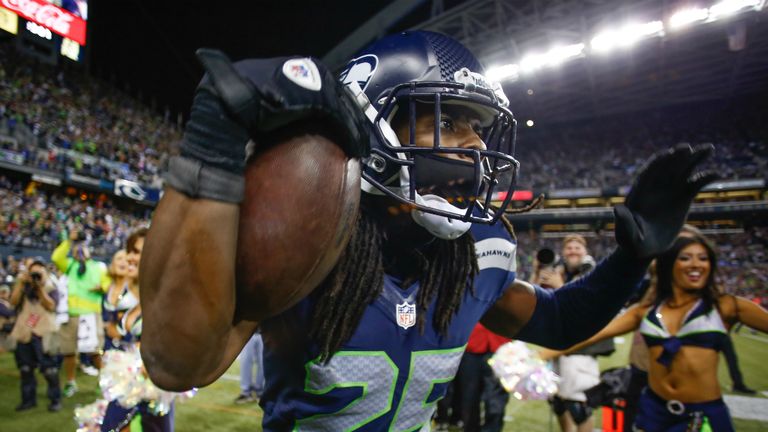 The Seahawks ace has been involved in a war of words with the San Francisco wide receiver since the pair almost came to blows at a charity event in Arizona last summer.
But Sherman had the last laugh on Sunday as he denied Crabtree a possible game-winning touchdown catch in the final minute of Seattle's 23-17 victory which earned them a place in the Super Bowl.
Sherman jumped ahead of Crabtree to tip a Colin Kaepernick pass into the arms of Seahawks team-mate Malcolm Smith for an interception which ended the 49ers' hopes of reaching back-to-back Super Bowls.
The Seahawks star then launched into an aggressive rant against Crabtree when interviewed by a stunned Erin Andrews, but Reynolds insists Sherman has nothing to apologise for.
"Richard Sherman is a player that talks a lot to improve his game," Reynolds told Sky Sports News. "If he takes that aspect out of his game, that bravado, then he is not the same player.
"He and Michael Crabtree have a history, there is no love lost between them. I don't think Sherman should be made out to be public enemy No 1 as he has been in the US.
"There is a "cooling off" period in the NFL where reporters are not allowed in the locker rooms for 10 or 15 minutes, but TV cameras can get to the players within seconds.
"He was still talking on the field how he would have been talking to Michael Crabtree. That was the issue, but if I'm honest, I think it's great!
"Emotions were running high, a place in the Super Bowl was at stake. What Sherman has done has guaranteed he will have a huge amount of attention leading up to the Super Bowl, but he'll be fine with it."
Best of the best
Reynolds also believes the Seahawks and the Denver Broncos are worthy Super Bowl teams having topped the rankings in their respective conferences over the season.
"The No 1 seed in the AFC is Denver, the No 1 seed in the NFC is Seattle. It's the first time this has happened since 2009," he said. "The Broncos have the best offense in the NFL, the Seahawks have the best defence, so everything is there for a good match-up.
"Peyton Manning is trying to win his second Super Bowl. He is a class act and would be the second oldest quarterback to win it at 37. He's coming off four neck surgeries. Everyone thought he was done, but he's back in the Big Show again."
This season's Super Bowl will be played at the MetLife Stadium in New York, the first time the showpiece has been played cold-weather, northern US city.
Concerns have been raised over the weather after nine inches of snow hit New York early this week, but Reynolds added: "I hope it adds to the occasion of the week, but I'd like to see them play in perfect conditions on game day because you get the best play then.
"It's all fun when a game starts in the snow, but you don't get the same quality.
"I think it's still a special Super Bowl because it's New York, although it's interesting that the NFL have not made any firm commitment to take the Super Bowl back there or to another cold-weather city."
Reynolds also believes Sunday's new-look Pro Bowl in Hawaii will provide excellent entertainment despite the all-star game being derided in recent years due to the Super Bowl teams not being involved.
He said: "American Football is a physical sport and it's not a sport you can play as a friendly.
"What they have done this year is to take two legends of the game in Jerry Rice and Deion Sanders, they tossed a coin and then picked their teams.
"The Pro Bowl is always fun, it's like two fantasy football teams put together. The players aren't trying too hard but they do put on a great show and we'll enjoy it."
Watch Team Sanders take on Team Rice in Sunday's Pro Bowl live on Sky Sports 1, coverage starts at midnight.