Super Bowl XLVIII: Percy Harvin could be the difference for Seattle Seahawks
Percy Harvin says he is fit and ready to make a huge late impact in Seattle's season during Super Bowl XLVIII.
Last Updated: 31/01/14 7:49am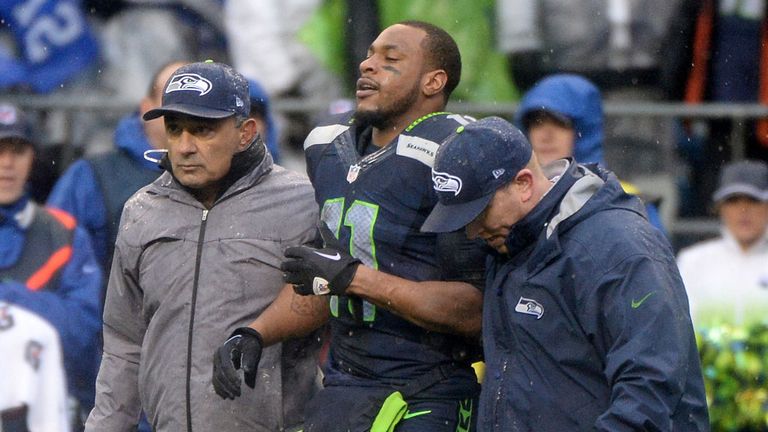 Seattle gave up a lot to Minnesota Vikings to lure the speedy receiver out to the Pacific Northwest, but he has endured an injury-ravaged campaign with Pete Carroll's side.
It's been well-documented in NFL circles that Harvin is one of the more delicate players out there, but there is no doubting his dynamic skills and playmaking ability could make a huge difference.
At Media Day Harvin said he was ready to go, and with little seen of him this year he could well prove to be the joker in the pack for the Seahawks, and he says he owes his team-mates a huge game for their support through a difficult year.
"I'm going to be really blunt and straightforward, if it wasn't for my team-mates being there for me I might've just shut it down," Harvin said. "There came a point where the training staff didn't know if I should come back in the same season after having hip surgery.
"I probably would've been done with the season if it wasn't for my team-mates. But I'm, so excited to play on Sunday now. I'm healthy and the way I'm feeling right now, it's going to be a good game.
"I'm not looking at it as redemption, it's an opportunity. It's a blessing to be able to play in the Super Bowl after all I've been through - I've dreamt of this since I was a little kid."
Harvin can not only star in the receiving game, but he has shown lightning pace and elusiveness running out of the backfield and even in the return game - if Seattle risk him - and he insists he will have no rustiness in finding a rhythm with quarterback Russell Wilson.
"Not at all, we've been good. I think in the Saints game we were starting to find a little rhythm. I've had a lot of practices and before my injury we had a lot of one-on-one sessions so we'll be fine."
Harvin thinks he owes his team one, after watching them having to play almost all of the season without his services - and starring in the Super Bowl would be the perfect payback.
"I want to hold up my end of the bargain and do the things I was brought here to do. I wouldn't call it payback exactly, but I'm looking to go out there and try and make some plays for my team-mates."
And not even the weather will stop him - in fact Harvin does not seem to be in any way bothered about the arctic conditions in New York.
"We actually don't think it's all that cold like everybody else," he insisted. "Being from Seattle, there's nasty weather. We get rain, it gets cold. We're not worried about that at all. The best team will win this game."