Super Bowl XLVIII: Denver John Fox and Seattle Pete Carroll face off in NFL New York
Seattle's Pete Carroll and Denver's John Fox faced off in their joint press conference ahead of Super Bowl XLVIII.
Last Updated: 31/01/14 4:10pm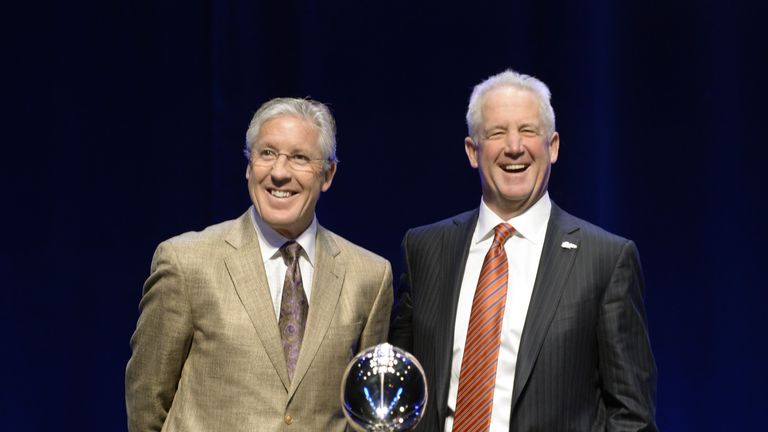 It started last year when brothers Jim and John Harbaugh made history by leading their teams to the big game, and the NFL decided to keep it in for this edition with the Denver Broncos' John Fox and Pete Carroll of the Seattle Seahawks.
Although not as feisty as say a Rafa Benitez-Jose Mourinho or an Alex Ferguson-Arsene Wenger joint press conference would have been, it's still interesting to see what messages they want to get across in their final media statements.
These two looked like they obviously get along, they are both defensive-minded coaches with similar backgrounds and both were respectful of the other - and they also seemed to relish finding out which of the NFL's best two teams will come out on top.
Will it be Denver's historic offence or Seattle's furious, No 1 ranked defence?
"A lot has been made of that and rightfully so," said Fox. "Both sides have been fairly historic in what they've achieved in Seattle's defence and our offence. I'm very proud of our offence and what they've done this year, but it's key to remember it's a team game.
"There's three phases of the game and it'll come down to who executes the best in all three phases. You big players are your big players and you don't win a Championship without those guys playing but in my experience there's always some lesser known guy who pops up and does something special."
Match-up
Carroll added: "It's a logical match up to look for. It'll be interesting to see if that really does decide the game between our defence and their offence but I really think there's more to the game than that.
"To us it's obvious we've got an enormous challenge of stopping their historic offence and stopping Peyton Manning, nobody's really been able to slow him down. But the game will probably come down to who takes care of the football the best."
The best response of the event came when the two were asked what they would take from their opposition team if they could.
"Being a defensive coach, I always look at that and they've done an outstanding job," Fox said of Seattle. "They're speedy and they cause havoc. They've probably got the best secondary in the league - the length, speed and aggressiveness of their defence sticks out."
Carroll again played the joker in response: "We'd love to have their points, what did you score about 800 points this season? If we had those points I think our defence could do pretty well.
"I wish we had their altitude as well when we're kicking, we can make kicks from a bit further out. But it would be wrong not to admire what a season they've had, but they're a well-rounded team, and not just on offence."
Experience
Experience is with the Broncos; Fox has been to a Super Bowl and, of course, he has Manning and three other players with big game experience - Seattle, in contrast, have none.
"In contrast to John's team we've got a very young team and we're trying to do something special with these guys," said Carroll. "They're running around and it's about a brotherhood with them seeing how far they can do. So it's interesting to see how different the make-ups of our teams can be but still get to the Super Bowl."
Fox suffered a huge illness scare during the season when he needed open heart surgery, but he was away just four weeks before returning to coaching.
"It was obvious I was going to need some medical attention, I had a great medical team so really it was like a sprained ankle, it was four weeks and things I had to do to get back coaching. I was back at work four weeks after open heart surgery, and after having that on my heart valve I feel so much better."
Carroll chimed in with: "What a stud! He compares open heart surgery to having a sprained ankle!"
And with that, the talking has stopped, from the two teams at least, as they now settle down to masterminding how they can win Super Bowl XLVIII.
From the Super Bowl to the Showdown on MNF, it's a great weekend on Sky Sports. Click HERE to upgrade