Super Bowl XLVIII: Sky Sports previews Seattle Seahawks v Denver Broncos
We take a look at how the big game will go when Seattle Seahawks take on Denver Broncos in Super Bowl XLVIII.
Last Updated: 02/02/14 7:52am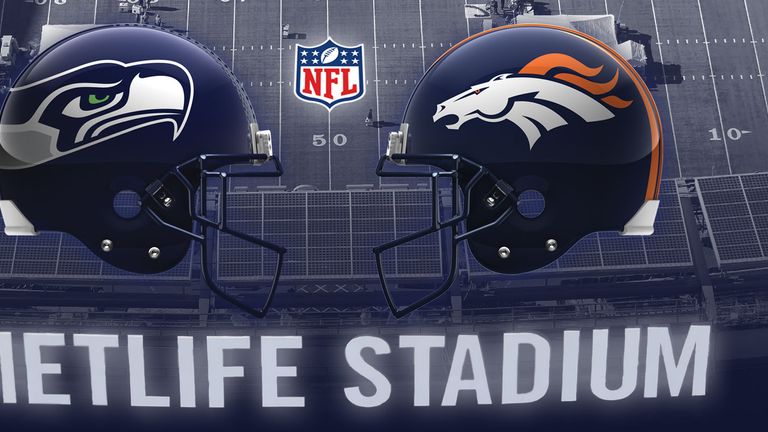 As always it will come down to fine margins, and with these two teams matching up so brilliantly it should be a close one as Seattle tackle Denver for the Vince Lombardi Trophy.
Let's look at a few key areas of the game.
Experience
Denver have the edge, they have Peyton Manning looking to win his second Super Bowl and coach John Fox coaching in his second - with three other players with previous big-game experience, in this game in particular, that is vital.
Seattle, on the other hand, have none - they're the first team since the 1990 Buffalo Bills to go into a Super Bowl without a single player with previous experience. They are young, hungry and fast as a team, but that lack of know-how could just find them wanting.
THAT offence v THAT defence
This is the big one, can Peyton dissect the league's roughest, toughest defensive outfit? One thing in his favour is that his line keep him well protected, if that continues he'll have every chance as Seattle don't usually disguise their defence - they line up as they line up and just say we'll beat you.
Seattle need to get in Manning's face, as it's hard to see them outscoring the NFL's best ever attack. The Seahawks have only faced one Top 10 offence all season, and with Denver being the first team in history with five players grabbing 10+ touchdowns - the options are plenty.
Form
Can't split them on numbers, with identical 13-3 records and identical home/away splits. Both won two play-off games at home to make the Super Bowl and both have been favourites to get here from day one.
Officiating
Both teams have been called out this week for sailing close to the wind in terms of the rules. Denver loves a 'pick play' where a receiver gets in a defensive back's way to enable a team-mate to get open - Wes Welker got away with one against New England which upset the Pats.
Seattle obviously are a rough defensive unit. They like to jam the receivers on the line of scrimmage, but they have been known to stretch the five-yard limit on contact and if the officials clamp down on that it could limit their effectiveness.
Weather
It's been a talking point all week, and almost anti-climactically it doesn't seem to be making a difference come Sunday night. With all the doom and gloom talk of snow storms and plummeting temperatures it'll actually be quite mild for New Jersey this time of year.
It also messes everyone's stats on Manning up as his record in games under 40F has been spewed out all week, and now that goes out of the window - we're almost disappointed at how nice the weather will turn out.
Venue
Both teams played at MetLife Stadium this year so it'll be familiar enough surroundings for both sets of players - and both teams came away with victories over the Giants. The wins summed up both teams as the Broncos won 41-23 with plenty of points, while Seattle's defence shut out the Giants 23-0.
Peyton's little brother Eli has been giving him some extra tips on playing at the stadium and that may come out in how the coin toss goes and more importantly when Manning is looking to throw in certain directions.
Verdict
It'll be close, it should be exciting, and it's the Super Bowl I've most looked forward to out of the six that I've been lucky enough to be at - given the quality on both teams. It'll be a tough start, Seattle will look to run it and try and limit Denver early on.
But Denver's defence has also improved of late and eventually Manning will find enough weapons to start to pick his way through, and Seattle will come up just short trying to match them as the Broncos emerge with a narrow win.
From the Super Bowl to the Showdown on MNF, it's a great weekend on Sky Sports. Click here to upgrade