NFL: Miami Dolphins owner promises locker room changes after Jonathan Martin report
Miami Dolphins owner Stephen Ross has promised changes to their locker room culture in the wake of the Ted Wells report.
Last Updated: 15/02/14 11:46am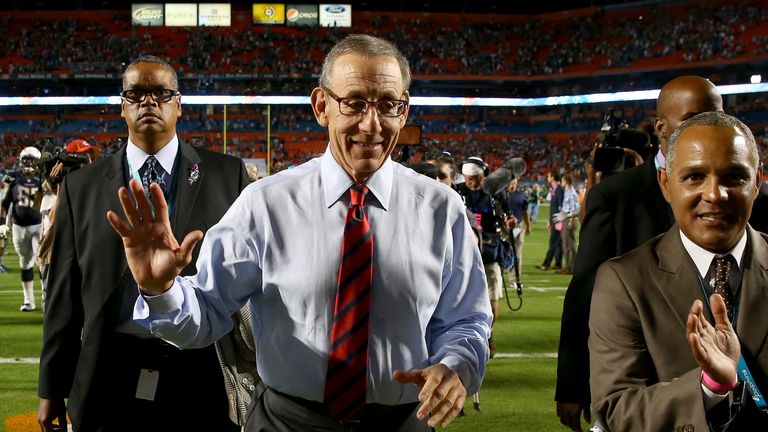 Martin left the team in October after what the report stated was a 'pattern of harassment' instigated by Richie Incognito and followed by John Jerry and Mike Pouncey.
Incognito was suspended and will likely never play for the Dolphins again, and at 30 may struggle to find another team, while Jerry and Pouncey will probably find work elsewhere if Miami decide to also cut them loose.
What the report clearly highlighted is that the state of the Dolphins locker room and an unsavoury culture that the NFL is due to try and change with new policies to be released soon - something which the Dolphins themselves are keen to introduce.
"I now have had a chance to read the report and obviously, the language that was used and the behaviour as described is deeply disturbing," said Ross in a statement.
Issues
"Although the report commended Joe Philbin's commitment to promoting integrity and accountability throughout the Dolphins organization, I told Ted Wells personally during my visit with him that we are committed to addressing the issues outlined in this report.
"We must work together towards a culture of civility and mutual respect for one another. It is important to me, important to coach Philbin and important to the entire Dolphins organization.
"We are committed to a positive workplace environment where everyone treats each other with respect. We have reviewed our Code of Conduct and workplace policies and are making enhancements to the areas of sports psychology, human resources and player engagement functions which serve as safe outlets for any player or employee.
"When these allegations first came to light, I wanted to know what happened so we could make our organization better. I also began a deliberative and comprehensive process of determining what I could do to elevate conduct in sports, regardless of the then-unknown conclusions of Ted Wells' report."
Head coach Philbin's position must also be under threat, although he was not involved in the matter the fact he was seemingly unaware of the extent of the problem casts a big shadow over his job.
New guidelines
Ross says the Dolphins will release their new guidelines for player behaviour next week as they look to set an example in the NFL following such a high-profile scandal.
He added: "Three months ago, I announced the creation of a committee comprised of coach Philbin, our CEO Tom Garfinkel, and respected former players and coaches, who would review Ted Wells' report and our current Code of Conduct and make any further recommendations. Now that the report has been made available to us, the committee can move forward and begin discussions.
"We seek to create a curriculum which emphasizes accountability and which educates athletes on a standard code of conduct, appropriate use of language, and the elimination of disrespectful and unacceptable behaviour in sports, including discrimination or harassment because of race, gender or sexual orientation.
"We are also exploring possible legislation and a conduct pledge that would be instituted in all organized sports throughout the country to elevate the core value of respect.
"I have made it clear to everyone within our organization that this situation must never happen again. We are committed to address this issue forcefully and to take a leadership role in establishing a standard that will be a benchmark in all of sports."