NFL Draft: Johnny Manziel stakes claim to be selected first overall by Houston Texans
Johnny Manziel has issued a plea to the Houston Texans to select him with the No 1 pick of this year's NFL Draft.
Last Updated: 17/02/14 3:59pm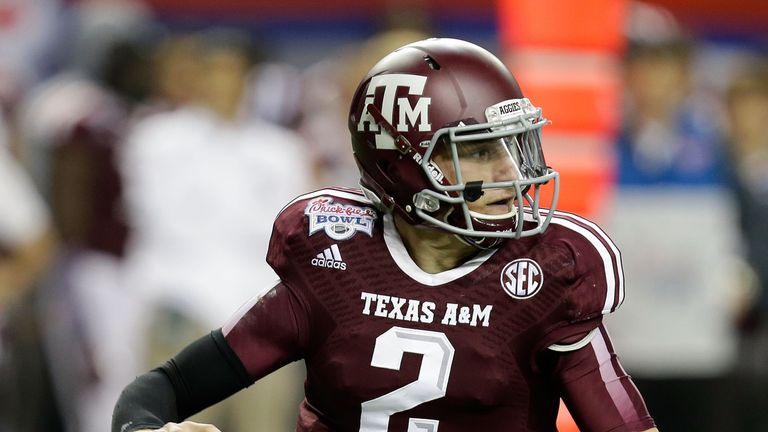 Texas A&M quarterback Manziel is the highest-profile entrant in April's draft but is not guaranteed to be the No 1 selction.
Despite his glittering college career a more typically-sized NFL quarterback such as Teddy Bridgewater or Blake Bortles or pass-rushing prospect Jadeveon Clowney could be given the nod by the Texans instead.
But much will be made of Manziel's close ties with the Texans having been born and raised in the state as well as playing his college football fewer than 100 miles away from Houston.
"I want them to say absolutely, without a doubt, with 100 per cent certainty, that I'm who they want," Manziel told the Houston Chronicle about the prospect of the Texans drafting him.
"I want everybody from the janitor at Reliant Stadium to the front office executive assistant all the way up to (owner) Bob McNair to say, 'this kid is 100 per cent, can't miss.
Texas kid
"'This is who we want being the face of our programme. We want the Texas kid staying in Texas and leading the Texans.'"
The Cleveland Browns have also been mooted as a possible destination for Manziel. They currently hold the fourth overall selection and are thought to be looking for a quarterback.
"If something happens, and it's the Cleveland Browns, I'm going to pour my heart out for the Dawg Pound and try to win a Super Bowl for Cleveland," Manziel added.
"I don't care if they've had 20 starting quarterbacks since 1999. I'm going to be the 21st and the guy that brought them the Super Bowl."
Browns offensive coordinator Kyle Shanahan is sure Manziel can have success in the NFL despite the fact he is shorter than average and has not played in a traditional pro offence.
"I haven't sat and studied him, but who wouldn't like him? He's fun to watch, he makes plays, and he's as much of a playmaker as I've seen on SportsCenter as anybody," Shanahan told 92.3 The Fan's Bull and Fox.
He added: "Of course (his skills can translate into the NFL), when you have that much success in college, when you're that big of a playmaker, you're going to be able to make some plays in the NFL too."