NFL: Jimmy Graham wants New Orleans Saints deal as wide receiver, not tight end
Star tight end Jimmy Graham wants the New Orleans Saints to pay him wide receiver money before he signs a new contract.
Last Updated: 19/02/14 7:56am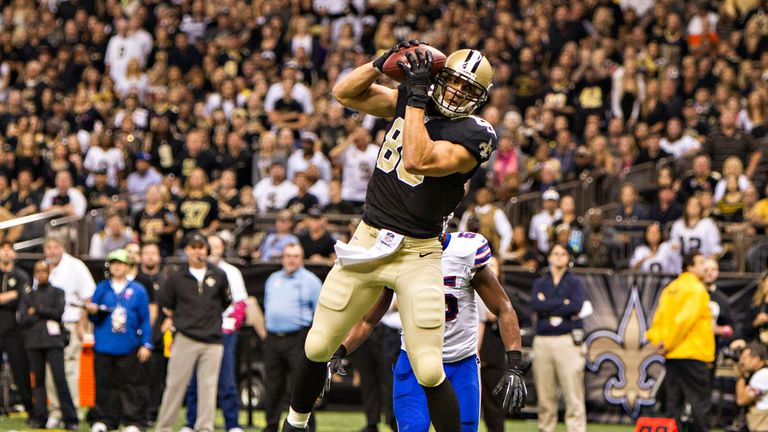 Tight end Graham has performed more like a wide receiver over the last few years, but it is that very asset that could cost the Saints as he is looking for wide receiver wages in his next contract - and he could even file a grievance with the players' association to be designated as a wideout.
Graham made $1.3 million last season in the last year of his rookie contract, but negotiations over a new deal centre around whether he should be designated as a tight end or a receiver.
He caught 16 touchdown passes last season - more than anyone else in the NFL - and lined up out wide or as a slot receiver in 63 per cent of his snaps.
If teams are struggling to sign a player on a new deal, they can use a franchise tag on him to stop him becoming a free agent, but they must do so by March 3, with free agency then starting on March 11.
Since franchise contracts are one-year deals with the salary being an average of the top paid NFL players at that position - Graham's position then becomes even more important - as the Saints would have to pay him $6.8 million as a tight end but $11.6 million as a receiver.
Tight end
"In our view he's a tight end. That's what makes him valuable," Saints general manager Mickey Loomis told the Times Picayne. "That's where we drafted him, that's where we play him."
It's been a decade since a Saints player played a season under the franchise tag, so the aim is obviously to sign him to a long-term contract and, even if he is a tight end, he will still get more than the $54m the Patriots paid Rob Gronkowski.
However, searching for a change in designation could then bring in the earnings of the top receivers into the equation which could push that contract number up even higher.
Still, it is unlikely that the best free agent out there will ever hit the market, as Graham is key to the Saints' future after catching 301 passes for 3,863 yards and 41 touchdowns in his four years with the team putting him fourth in team history in touchdowns.
It's business season in the NFL and this will be one of the biggest bits of business done all summer in the league, and even if the Saints want to keep it from getting ugly it could well go to an independent hearing to decide Graham's position.
The modern day NFL tight end role has been evolving over the years making receiving a more important facet of the game, and with Graham it now seems that it could go all the way by merging him into a bona fide receiver.