NFL: Miami Dolphins sack Jim Turner and Kevin O'Neill after Ted Wells bullying report
The Miami Dolphins sacked offensive line coach Jim Turner and trainer Kevin O'Neill for their part in the bullying saga.
Last Updated: 20/02/14 10:07am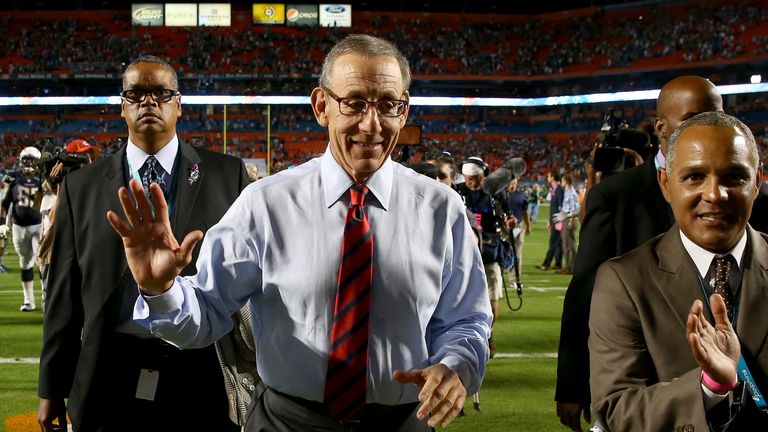 Wells' damning report revealed harassment and chaos in the Dolphins locker room that led to Jonathan Martin leaving the team - with Richie Incognito cited as the ringleader of the abuse.
Turner and O'Neill were also mentioned in the report, and Dolphins owner Stephen Ross believes they should have done more to resolve the issue, so has decided to let both men leave Miami.
Turner was said to have heard and even participated in the harassment of Miami players, while the report stated O'Neill had also heard the insults flying around but could not be quizzed on them after showing 'hostility toward our investigation'.
"The language and behaviour as described in the Ted Wells report are against the core values of our organization," Ross said in a statement.
"After receiving the report, I conducted my own internal review of the facts to determine the appropriate steps for our organization. Jim Turner and Kevin O'Neill are good people who care a great deal about their profession and the players whom they serve, but both exhibited poor judgment at times which led me to this conclusion.
Character
"As owner, I know first-hand of the high-character and dedicated professionals in our building. I believe in our team and know the hard work and sacrifices they make every day on the field and in the community. However, this is an opportunity and a teaching moment not only for the coaches, staff and players in our locker room, but also for participants throughout sports."
The O'Neill sacking in particular will make many at Miami sit up and take notice as he has been their head trainer for 18 years and is hugely respected in his field, but Ross is keen to show he is clearing the decks - and these two sackings will not be the last.
Dolphins coach Joe Philbin is under increasing pressure for this incident happening on his watch, but for now he seems safe as he also spoke on the statement revealing the sackings.
"As the head coach of the Miami Dolphins, it is my responsibility to create an atmosphere that allows each player the opportunity to reach his full potential," Philbin said. "As Stephen Ross said, and I agree, the language and behaviour outlined in Ted Wells' report was disappointing and unacceptable.
"Since I first arrived in Miami, it has been my goal to have a team which honours our proud tradition and represents our fan base the right way both on and off the field. It is not possible for a team to accomplish its goals when the fundamental values of respect are violated.
"That ultimately rests on my shoulders and I will be accountable moving forward for making sure that we emphasize a team-first culture of respect towards one another."