NFL: Miami Dolphins QB Ryan Tannehill keen to move on from bullying scandal
Miami QB Ryan Tannehill is confident they can move on from the bullying scandal and promises to be more of a leader.
Last Updated: 25/02/14 12:57pm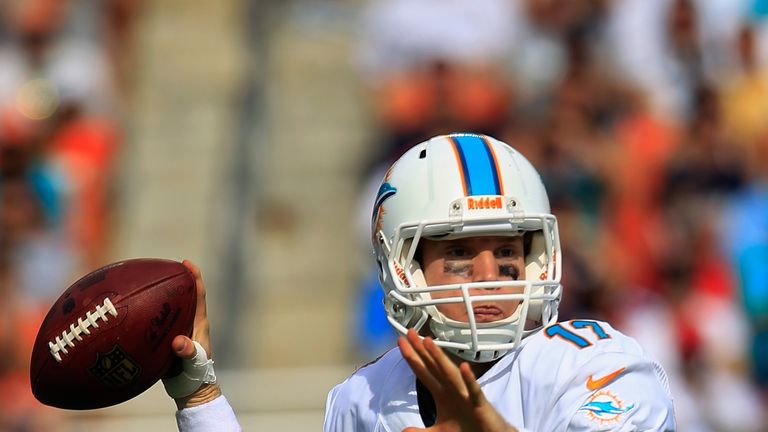 The Dolphins have fired offensive line coach Jim Turner and head trainer Kevin O'Neill for their roles in the case, with the Wells report citing Richie Incognito as a ringleader of harassment against team-mate Jonathan Martin.
Martin left the team last year due to the abuse he was receiving, and even now there are still rumblings that coach Joe Philbin's job could and maybe should be on the line.
Tannehill did not get through the full 144-page report, but says that now it is all out in the open the team can begin to move on from the sorry affair.
"I saw a few pages of it. I got overwhelmed by 140-and-whatever pages and skipped it. I'm just glad it's out," Tannehill told AP at a Dolphins charity golf event.
"The evaluations and summaries have been made, the points have been taken and now we can move forward. There's no more being anxious about it coming out.
Consequences
"We've had the consequences and repercussions, and now we can put it in the past and move forward.
"I think it's behind us at this point. Obviously we'll try to learn from it and correct things coach Philbin and the coaching staff feel need to be changed. We want to have a healthy locker room."
Owner Stephen Ross and coach Philbin have vowed to improve the locker room behaviour going forward, and third-year quarterback Tannehill has admitted he needs to take more of a leadership role this coming season.
The 25-year-old has started since his rookie season in 2012, but says that only now is he starting to feel comfortable in the leadership role NFL quarterbacks need to occupy.
"You definitely get more comfortable speaking up at certain times," he said. "You have the respect. That's the big thing - having the other guys' respect in the locker room.
"You can't come in with no respect and try to own the place. At this point hopefully I have some respect in the locker room, and now I can assert myself."