NFL: Jacksonville Jaguars may not pick QB in first round Draft
GM Dave Caldwell says the Jacksonville Jaguars would rather pass on a future star than Draft the wrong QB again.
Last Updated: 28/02/14 2:20pm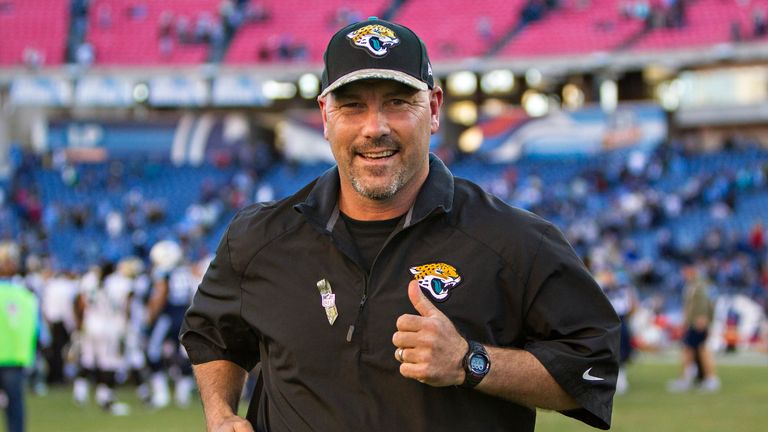 The Jags have the third overall pick in the Draft, but they appear to be a bit trigger shy on opting for a quarterback, having been fully aware at how picking the wrong one early in a Draft can set you back years.
Picking Blaine Gabbert has proved to be an expensive mistake, and Caldwell insists he would rather take the flak of passing on a big-name QB early in the Draft than pick another wrong choice.
"I'd rather get backlash from that than backlash from picking the wrong guy," Caldwell told CBS Sports.
"In today's day and age, if you can't get Peyton Manning or Matt Ryan, and they might not be available for the next 10 or 15 years, then you have to adapt and build the roster and do what's best for the organisation," Caldwell said.
"And if a quarterback presents itself later in the draft, you take and develop him. Having a franchise guy makes the world a lot easier, though. It can erase a lot of mistakes you make.
"But if you force it, you can screw it up. I don't know if we're going to find that guy, but I hope we do."
Top QBs
The likes of Teddy Bridgewater and Johnny Manziel should be available to the Jags at No 3, but although both are tipped to be big NFL stars the team will not selected them just for the sake of it.
To argue his point, Caldwell said the Jags have a few areas of concern, and believes they can find a developmental QB to work behind Chad Henne, who he continues to insist can do a job for them.
"We have a lot of issues," Caldwell said. "We have a lot of places we need to get better. Chad did a pretty admirable job for us. He was .500 in his last eight games.
"It was his first year in the system. Just because he's a veteran doesn't mean you know the system. He has good leadership skills. Guys rallied around him.
"Our feeling is if we can upgrade the offensive line, get some playmakers, improve the running game, I think he can sustain us and be our starter until somebody presents himself."
Owner Shad Khan, though, has revealed that the team could even draft two quarterbacks, which would almost certainly signal the end for Gabbert at least.
"I think there's no mystery that we're going to be taking a quarterback and maybe two," Khan told The Florida Times-Union. "We have to get better at that (position)."